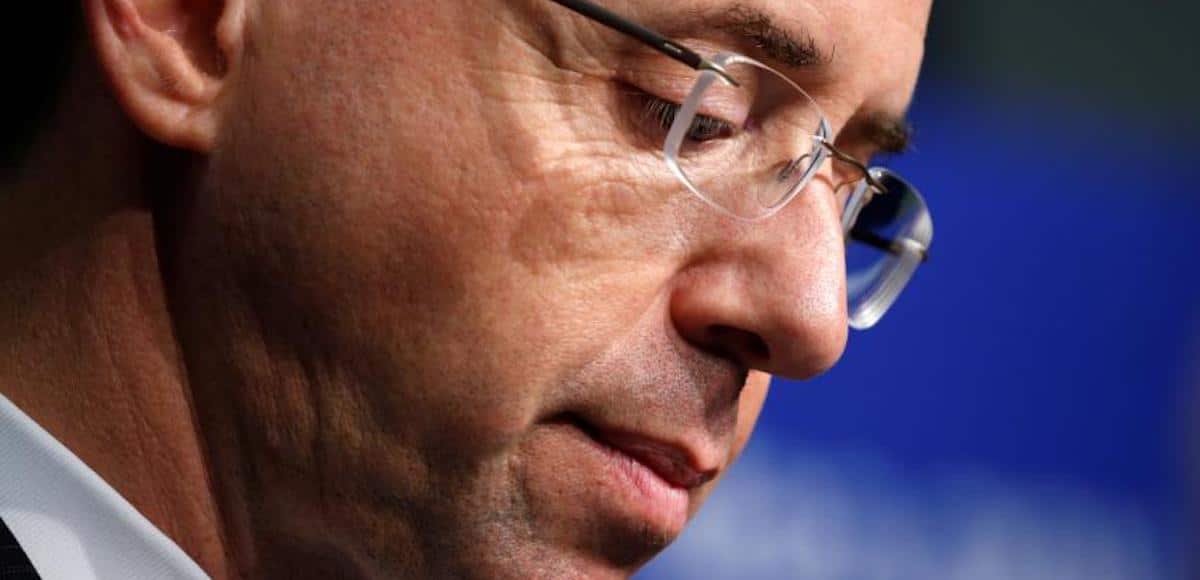 The White House said President Donald Trump and Deputy Attorney General Rod Rosenstein will meet at the White House on Thursday to discuss his future in the administration.
The meeting comes amid a behind-the-scenes war against government spying abuses and reports Mr. Rosenstein suggested wearing a wire to in a scheme to remove the president.
"At the request of Deputy Attorney General Rod Rosenstein, he and President Trump had an extended conversation to discuss the recent news stories," Press Secretary Sarah Huckabee Sanders said in a statement. "Because the President is at the United Nations General Assembly and has a full schedule with leaders from around the world, they will meet on Thursday when the President returns to Washington, D.C."
The latests story involving Mr. Rosenstein broke last week as President Trump ordered the agency to declassify the full FISA warrant used to spy on his campaign, a move that will more than embarrass the deputy attorney general, who serves as acting attorney general for all things Russia.
The Justice Department (DOJ) previously released documents used to justify the FISA warrant application to spy against Carter Page, a former and peripheral campaign adviser to then-candidate Donald Trump.
The heavily-redacted documents on their own confirmed crucial and disturbing details of the memo prepared by Rep. Devin Nunes, R-Calif., and other Republicans on the House Permanent Select Committee on Intelligence (HPSCI).
That includes the allegation that the DOJ and Federal Bureau of Investigation (FBI) relied upon the infamous and discredited dossier put together by former MI6 British intelligence agent Christopher Steele, identified as Source #1.
The dossier was funded by the Democratic National Committee (DNC) and the campaign for Hillary Clinton, who hired the shadowy smear firm Fusion GPS, who in turn hired Mr. Steele. The former spy of the Russia desk at MI6 almost exclusively used Kremlin sources to gather the information he then fed to DOJ officials, including Bruce Ohr via his wife Nellie Ohr, an employee of Fusion GPS.
Mr. Ohr, the former associate attorney general who was twice demoted for trying to hide his contacts with Mr. Steele, was in turn feeding the dossier to Andrew Weissmann, the number two on Democrat-dominated team put together by Special Counsel Robert Mueller III.
But Obama Administration officials never told the FISA court that it was political opposition research. Multiple sources claim the full un-redacted version of the FISA warrant will implicate Mr. Rosenstein, signed the fourth and final FISA renewal.
Meanwhile, former FBI official Lisa Page, who along with lover Peter Strzok and others was at the center of Clinton and Russia probes, told members of Congress there was never evidence of collusion or the like between Russia and the president's campaign. The purpose was to trigger a special counsel, which they got.
Mr. Mueller was appointed by none other than Rod Rosenstein, who did so ignoring all guidelines and federal laws governing special counsels.