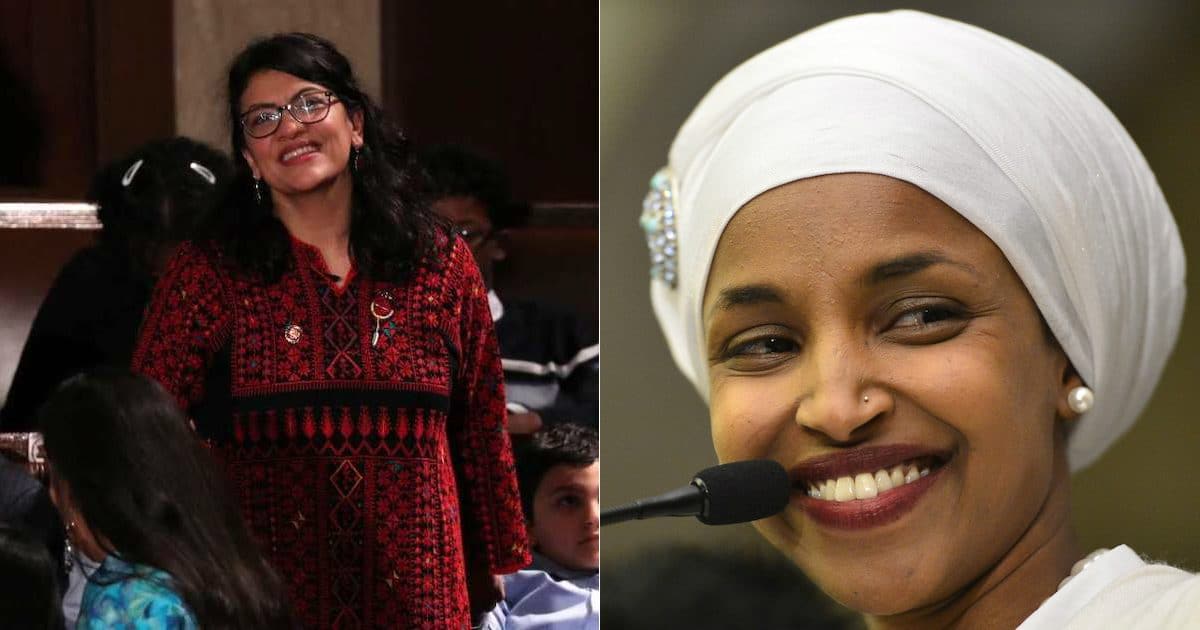 House Democrats struggled this week to bring a resolution "rejecting anti-Semitism" to the floor, a measure responding to controversial remarks by Rep. Ilhan Omar, D-Minn., about Israel.
Rep. Omar and Rep. Rashida Tlaib, D-Mich., became the first Muslim women sworn into Congress in January. That was just over 60 days ago, and to date both have either made or posted comments critics have called anti-Semitic.
Only three weeks ago, House Speaker Nancy Pelosi, D-Calif., and her top lieutenants publicly condemned Rep. Omar's previous remarks as anti-Semitic.
At a press conference on Thursday, Speaker Pelosi caved to pressure from the growing dissent among the leftwing base, claiming Rep. Omar wasn't "intentionally anti-Semitic" and didn't understand the "full weight," or meaning of her words.
She revealed she had not asked Rep. Omar to apologize, nor would she. The watered-down version of the resolution–which even a Jewish Republican member voted against–didn't mention her specifically.
The freshmen lawmaker will not be relieved of her assignment on the powerful House Foreign Affairs Committee, as requested by eleven Jewish groups in a letter sent to Speaker Pelosi and Rep. Eliot Engel, D-N.Y, who chairs the committee,

What happened? What changed since Speaker Pelosi and her top lieutenants characterized her remarks as "anti-Semitic tropes and prejudicial accusations" that were "deeply offensive"?
On Wednesday, Speaker Pelosi walked out of a meeting with Democratic House members, who were in full revolt over the resolution condemning anti-Semitism. They felt emboldened by activists and anti-Israeli lobby supporting them on the Hill.

That same day, Rep. Tlaib hosted a meeting with activists who either have ties to or have voiced support for Hamas and other Islamic supremacist groups. Linda Sarsour and representatives of CAIR, the Council on American-Islamic Relations, attended the meeting.
While CAIR bills itself and is portrayed as a Muslim civil rights and advocacy group, it was founded by two members of the Muslim Brotherhood's now-defunct "Palestine Committee".
The Palestine Committee was created by the Brotherhood to advance Hamas' political and financial agenda in the United States.
Nihad Awad, who was also present for the meeting in Tlaib's office, is one of those former committee members, and he currently serves as executive director for CAIR. According to federal investigators, he was a close associate of Hamas leader Moussa abu Marzook.
Asra Nomani–an author, journalist and Muslim reformer–walked into the halls of Congress to be present for the meeting. She was belittled, physically blocked and taunted by several representatives of CAIR.
"As a Muslim woman who has witnessed and experienced abuse by Muslim men, it is terrifying to be spoken to with the hate, hostility and aggression Arab/Islamist men openly throw at Reform women," Shireen Qudosi, the Clarion Project's National Correspondent wrote of the incident.
"As Nomani points out, this is America not some Arab country — but the way we're treated, you can't tell the difference."
Mongi Dhaouadi, who can be seen in the video attempting to physically intimidate Nomani, served as the executive director for CAIR in Connecticut. The group has removed that information from the staff section of their website.
Dhaouadi supported Tunisia's pro-Islamic Ennahda party, which according to the Brookings Institute, has a "grey" record on their "commitment to pluralism, and respect for women's and minority rights."
On September 24, Tunisian President Beji Caid Essebsi ended a four-year alliance between his secular party, Nidaa Tounes, and the Islamist party Ennahda.
Sarsour, a co-chair of the national Women's March and a campaign surrogate for politicians including Bernie Sanders and Alexandria Ocasio-Cortez, has a long and documented history of making anti-Semitic remarks.
In the above video, she can be scene directing Jinan Shbat, also known as Jinan Deena, to block Nomani. Jinan, the events and outreach manager for CAIR, has posted a number of anti-Israel comments to social media dating back years.
In May, 2018, journalist and commentator Wajahat Ali announced on social media the Islamic Society of North America, or ISNA, had disinvited him from speaking at their annual convention in Houston.
The U.S. government named ISNA as a member organization of the Muslim Brotherhood in the case against the Holy Land Foundation for Relief and Development.
Altaf Husain, ISNA vice president, cited his "recent work" with Israel for the disinvite, which included filming a documentary with The Atlantic that spoke with Jewish settlers and Palestinians in the West Bank.
In 2014, he also participated in the Muslim Leadership Initiative, or MLI, as part of the Shalom Hartman Institute, a program that "invites North American Muslims to explore how Jews understand Judaism, Israel, and Jewish peoplehood."
Rabia Chaudry, an attorney and author who also participated in MLI, was disinvited as well for engaging directly with Israeli Jews. Chaudry tweeted a story from The Washington Examiner covering the disinvite, which elicited this response from Jinan.
MAY 31 2018: "You both deserve it. Your work on Israel is abhorrent. The fact that you can't separate Zionism from Judaism is laughable. To be anti-Israel is not anti-Semetic [sic]. Being pro-Israel is actually more Christian than Jewish. Supporting Israel has no space in the Muslim world."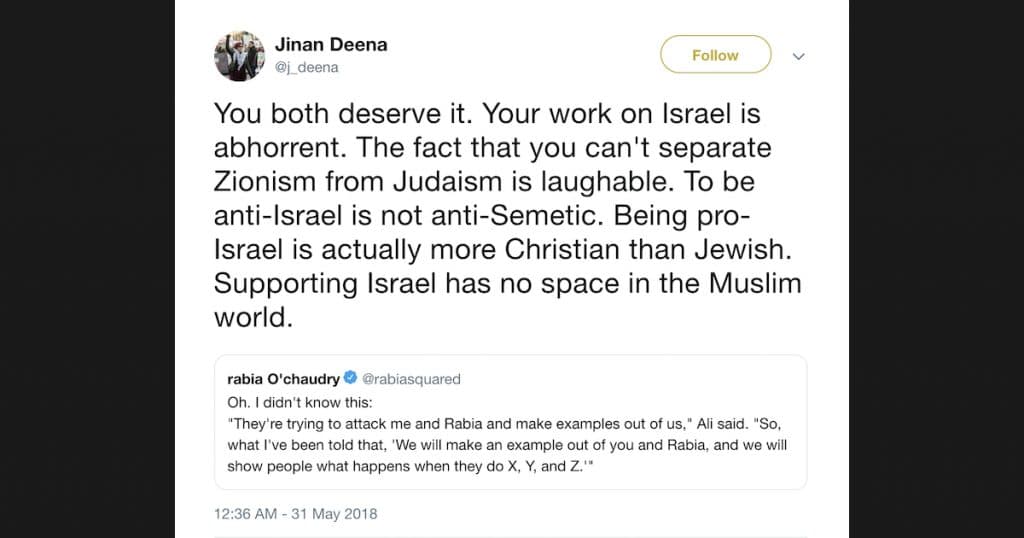 A month later, she attacked them again on Twitter in a tweet referencing Razan Al-Najir, a young Muslim paramedic killed by IDF gunfire in Gaza back in 2018.
JUNE 1 2018: "Shame on Wajahat and Rabia and all other Muslim and Arab sympathizers of Israel. Fuck you and your normalization. When Israel kills, you are complicit. Razan's blood is on your hands. Enjoy your Ramadan, bastards."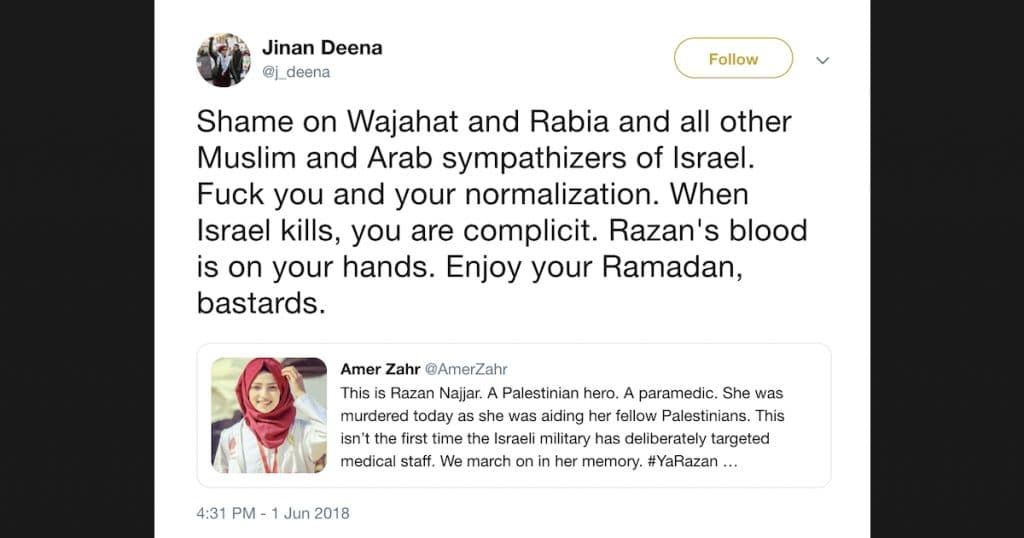 Western media initially portrayed Razan as a symbol of the Israeli aggression against unarmed Palestinian protesters in Gaza. They overlooked Razan admitting to Arab media she was in Gaza to willingly use herself as a human shield for Hamas.
"I am Razan Al-Najir," she told the interviewer before her death, which the terror group celebrated as martyrdom. "I am here on the frontlines to act as a human shield."
Hamas frequently uses paramedics and other medical personnel as human shields.
Maajid Nawaz, a former Islamic extremist turned-activist against extremism, tweeted a political cartoon depicting the human shield tactic before an appearance in London.
CAIR has repeatedly been equivocal on their support for Hamas, claiming to not support any organization that engages in violence, though are careful not to mention the terror group by name.
In Jinan's response, she states Hamas "are the only ones fighting for Palestinians from within Palestine," adding anyone who doesn't agree needs "to just f*** off."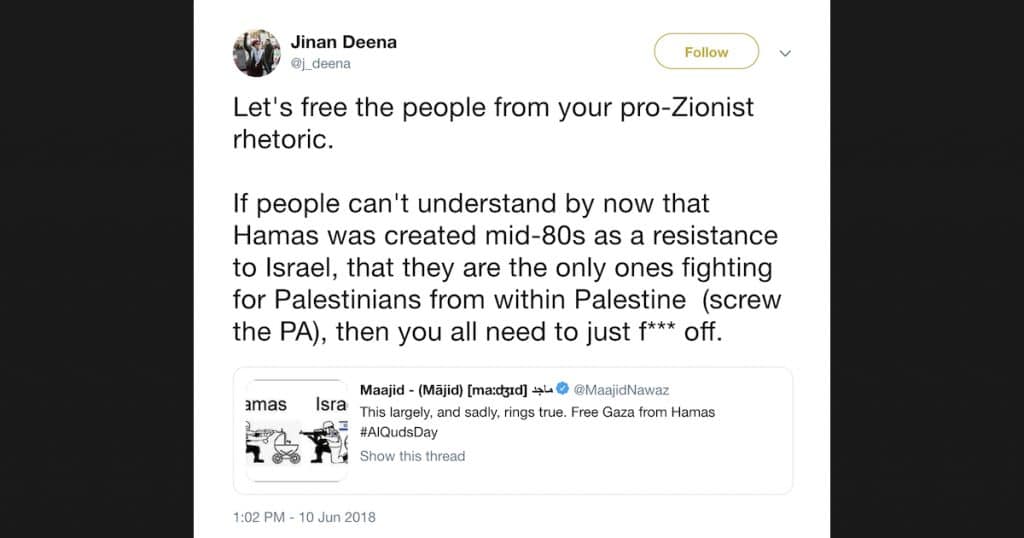 JUNE 10 2018: "Let's free the people from your pro-Zionist rhetoric.
If people can't understand by now that Hamas was created mid-80s as a resistance to Israel, that they are the only ones fighting for Palestinians from within Palestine (screw the PA), then you all need to just f*** off."
The "PA" is a reference to the Palestinian Authority led by Mahmoud Abbas. Once political adversaries of Hamas, the Palestinian Authority has become increasingly radical.
Following the passage of the rewritten resolution, which was watered down to the point even Rep. Omar voted for it, Sarsour took a victory lap on Twitter, posting "they tried to divide us but we won."
According to the Center for Responsive Politics, CAIR contributed directly to just two congressional candidates, with Rep. Omar being the top recipient.