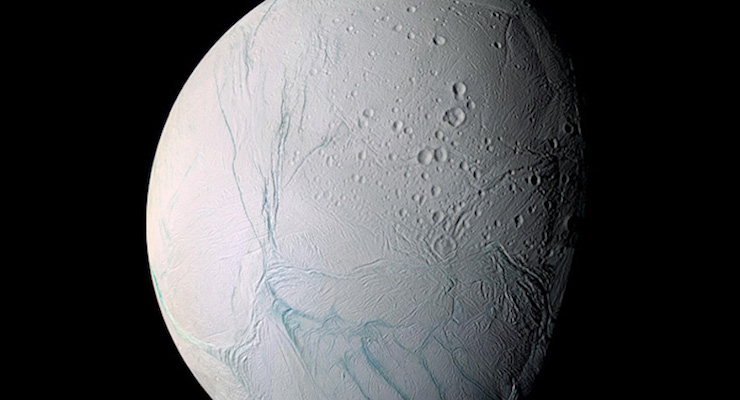 Enceladus, the sixth largest moon orbiting Saturn, has become a promising lead in the search for life beyond Earth in our solar system. At only 157 miles (252 km) in mean radius, or a diameter of 314 miles (505 kilometers), Enceladus is a rather small satellite.
But under its icy crust is a global ocean potentially housing hydrothermal activity.
The latest images released by NASA were obtained by the Cassini spacecraft at a distance of approximately 81,000 miles (130,000 kilometers) from Enceladus (Image scale is 2,566 feet (782 meters) per pixel). The Cassini mission, which in 2005 revealed watery jets sending icy grains into space, is a cooperative project of NASA, ESA (the European Space Agency) and the Italian Space Agency.
In 2015, researchers analyzing data collected by Cassini over the years found a very slight wobble as it orbits Saturn, which can only be occurring if its outer ice shell is not frozen solid to its interior. The findings seem to indicate a large sea about 6 miles (10 kilometers) deep beneath the southern polar region, under an ice shell about 19 to 25 miles (30 to 40 kilometers) thick.
Scientists believe hydrothermal vents spew water vapor and ice particles from an underground ocean that hold organic compounds, such as volatile gases, carbon dioxide, carbon monoxide, salts and silica. Europa, another icy moon orbiting Jupiter, is believed to offer scientists similiar promise.
Enceladus may be relatively small, but it is one of the brightest objects in our solar system.  It was first observed by Sir William Herschel and his 1.2-meter telescope on Aug. 28, 1789.