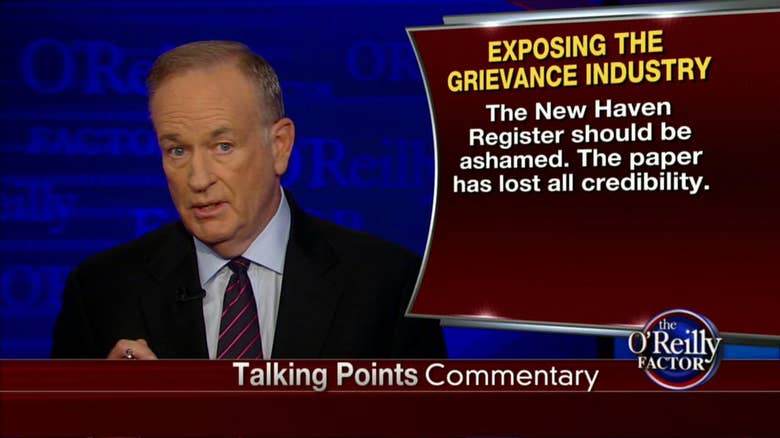 The New Haven Register apology to Fox News for comparing them to the KKK was unacceptable, and Ted Nugent and Ann Coulter are apparently still racists.
Bill O'Reilly had called out the New Haven Register for stating that the "same basic message that the KKK has promoted for 148 years is embraced by the likes of Ted Nugent, Fox News, Ann Coulter, a burgeoning array of fringe 'conservative' media."
The apology was half-hearted, couched in sarcasm, and smelled of the same aroma that all progressive apologies smell like, BS. It's the typically liberal apology that begins with a "Sorry" and quickly follows with… "But." Matt DeRienzo, who cowardly did not reply to an interview request by The O'Reilly Factor, was tasked with writing the response for the New Haven Register. He wrote:
It was a poor choice of words that created an unfortunate comparison between Fox News and the KKK. We're sorry for that. We did not intend to make any such comparison. This comparison should have been more specific to Nugent's and Coulter's views and statements about people of color, immigrants and gay people, and to be clear, was relating that to the ideology of the KKK, not its abhorrent history of violence.

We stand by our criticism and call for Fox News to challenge and condemn the hatred and racism advocated by guests such as Ted Nugent and Ann Coulter instead of continuing to give them a platform.
In other words, as it relates to Fox News, DeRienzo says "Sorry, well sort of" – "But regarding Ted Nugent and Ann Coulter, they are still racists and Fox News is still 'sort of' racist for giving them a platform. There, we said it Bill. Now is that enough for you to not sue our crappy little paper into bankruptcy?"
I certainly hope it isn't, because this sort of character assassination disguised as journalism must come to an end. Firstly, the statement that Matt DeRienzo highlighted was not the only comment that was offensive to Fox News and those who watch it, which coincidentally is a far greater number than competing liberal networks. Bill O'Reilly, alone, has as many viewers each night at 8PM ET as the entire liberal cable news competition combined, a stat we frequently hear from Mr. Bill O'Reilly. Nevertheless, the editorial ended the column with the following:
With that in mind, we shouldn't need a label as obvious as "KKK" to call out and condemn hatred and racism. Institutions who are helping "mainstream" this message — even if that's Fox News, the national Republican Party, or Toad's Place — deserve to be called out and, if ultimately necessary, marginalized and ostracized for enabling it.
Really? Fox News and the national Republican Party are "institutions who are helping 'mainstream'" the message of racism and the KKK? Turn on MSNBC and listen to Melissa Harris-Perry, her frequent guest Professor Dyson, and the so-called Rev. Al Sharpton himself, and all you will hear is a racist message repackaged as liberal mainstream ideology. In case the writers at the New Haven Register need a history lesson, underneath the hoods of those in the KKK who perpetuated crimes against minorities in this country were Democrats. That's right, members of the national Democratic Party, not the Republican Party, including Sen. Byrd D-WV and Al Gore's father and former Sen. Al Gore Sr. D-TN. Shall I go on?
Speaking of which, Ann Coulter has a great column out today about the rewriting of this disgraceful history, including the lie about the Kennedy family being a champion of civil rights. The real reason Ann Coulter has been a recent target of the race-profiteers is because of her book, Mugged: Racial Demagoguery from the Seventies to Obama, which unequivocally proves how history has been rewritten to keep blacks on the progressive plantation. The national Republican Party was the only reason Brown vs. Board of Education was enforced, and that the civil rights legislations of the 1950s and 1960s were even passed. The Democratic filibuster by Strom Thurmond (then-member of both the Democratic Party and the KKK who switched to the Republican Party only after he renounced his affiliation and racist beliefs), still holds the record for the longest filibuster in the history of the Senate from when Democrats opposed civil rights legislation.
I guess you must not need to know how to read to get a job at the New Haven Register, because they apparently do not know the history of the civil rights movement. In fact, they do not know American history at all, specifically why being pro-Second Amendment doesn't make you a racist. "We'd like to say the tactics are different – that they are absent of the KKK violence of the 1920s and 1960s. But a young black man was killed by a gun-toting vigilante in Florida, and Nugent and company are cheering," the original piece (of trash) said. Just because we don't want or need to live in a police state, and black youth happens to factually be responsible for committing violent crime at a rate 10 times the amount of whites and Hispanics combined, doesn't make you a racist.
What does make you a racist is when you support candidates who intentionally keep blacks uneducated, do not address the breakdown of traditional values within the black community, or do not even bother to step into said communities until they need to rally the troops. Subsequently, since Obamacare appears to be spearheading a midterm electoral disaster for the party, Democrats will be returning to their districts to head into those communities to spout lies about the Voting RIghts Act. If you are an urban black voter, then it is time to fall in line, forget about the crime, poverty and the 50 years of the lack of progress on the progressive plantation.
Considering that the piece (of trash) was a response to the KKK supposedly attempting to mainstream their message, and used the likes of Scot X. Esdaile, president of the Connecticut chapter of the NAACP, who called this "putting a pink-collared dress on a pig," to which the editor cleverly responded "That's an insult to pigs," it isn't unreasonable to point out the hypocrisy. The New Haven Register seems to think that's off-limits. "It's just as ridiculous a premise that something Al Sharpton said 20 years ago should somehow nullify outrage over the racism of Ted Nugent in 2013," DeRienzo wrote.
20 years ago? How about 20 hours ago on his radio show when Sharpton and his guest pulled the same garbage against Fox News on his radio show that 20 people listen into everyday? And let's not forget that the NAACP is the same organization that ran ads in 2000 depicting George W. Bush as the ringleader behind the dragging of black Americans behind trucks in Texas.
The left always gets a pass for making the most outrageous statements. But when they get caught speaking what's really on their mind, a half-hearted apology and pathetic attempt to appear legitimate as they say "that's not what I really meant" seems to suffice. Rep. Monique Davis D-IL, whose remarks from a radio interview O'Reilly also played during his "talking Points Memo," insinuated that the Chicago PD were killing the dozens of blacks who are gunned down on the city street every week. For your viewing dis-pleasure:
http://youtu.be/3dE4V-fbYlc