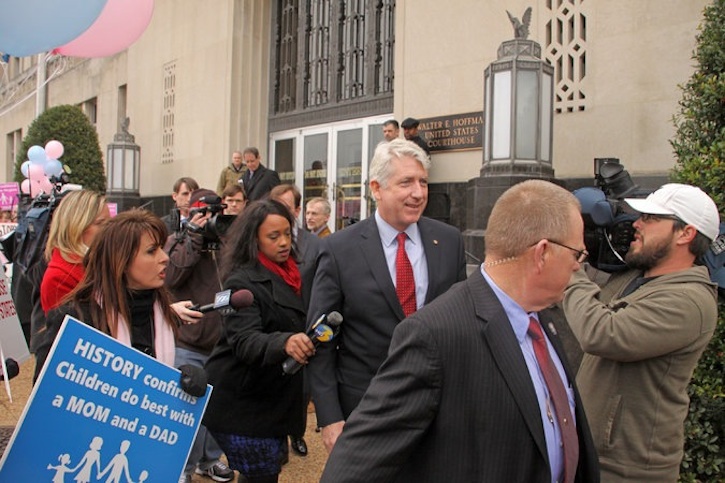 The voter approved Virginia gay marriage ban has been struck down by a federal activist judge, making it the first state in the South to see its popularly supported ban overturned.
U.S. District Judge Arenda Wright Allen issued a stay of her order while it is appealed, meaning that gay couples in Virginia will still not be able to marry until the case is ultimately resolved. Both sides believe the case won't be settled until the Supreme Court decides to hear it or one like it.
Virginia is now the second state in the South to have their values overturned, with a judge in Kentucky ruling Wednesday that the state must recognize same-sex marriages performed in other states. However, the ruling did not address the constitutionality of same-sex marriages performed inside the state.
The two rulings in Kentucky and Virginia are the latest in a strand of similar decisions in Utah and Oklahoma federal courts. The people in the state, who approved by ballot the Virginia gay marriage ban, are just now realizing the ramifications of voting Democrat down the ticket during the 2013 elections.
Virginia Attorney General Mark R. Herring, decided to not even bother upholding the law or his Oath of Office to do so, as he believes the Virginia gay marriage ban violates the equal protection clause of the 14th Amendment. Whether or not a particular AG agrees with the law is beside the point, because they are tasked with enforcing the law of the land. It is particularly disturbing that the popularly supported law, or one passed directly by a ballot reflecting the will of the people, was ignored.
Herring's office, however, did ask for the judge to stay her order to avoid what occurred in Utah, following a federal judge declaring that state's ban on gay marriages was unconstitutional.
In the aftermath of the ruling, more than 1,000 gay and lesbian couples were married before the U.S. Supreme Court granted the state an emergency stay. the Supreme Court ruling stopped the weddings and now the fate of those married couples is uncertain. A federal judge also declared Oklahoma's ban unconstitutional, a ruling that is also on hold while it is appealed.
The Virginia gay marriage case surrounded on a Norfolk couple that were denied a marriage license by the Norfolk Circuit Court in July, after the Supreme Court struck down the federal Defense of Marriage Act. A Chesterfield County couple that married in California and is raising a teenage daughter also later joined the lawsuit.
The attorneys representing the plaintiffs are the activist attorneys who successfully challenged California's voter-approved ban on gay marriages in court, with another instance of Democrat officials deciding to not defend the law popularly supported on a ballot initiative, twice.