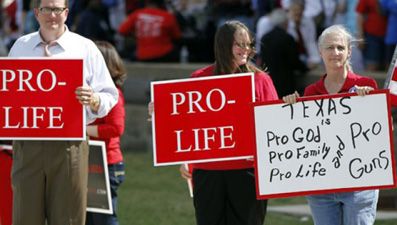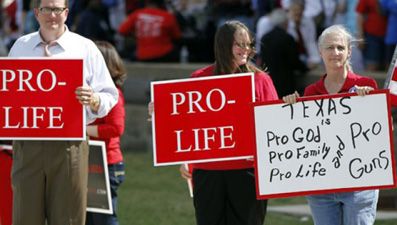 A federal appeals court ruled Thursday that Texas could immediately begin enforcing its new late-term abortion ban, complete with health standards all but seven clinics can meet.
The U.S. 5th Circuit Court in New Orleans stayed a ruling by U.S. District Judge Lee Yeakel, who ruled in August that part of the law requiring Texas clinics to spend millions of dollars on hospital-level upgrades was less about safety than making access to abortion difficult.
The court said that during the time it considers the overall constitutionality of Texas' sweeping 2013 late-term abortion ban, which Republican Gov. Rick Perry and other conservatives say is designed to protect women's health, Yeakel's ruling that suspended the requirement to meet certain standards is overturned.
The state of Texas in its appeal had asked the appeals court to let it enforce the law during that process and now they have it,  allowing state health officials to move the rules on hospital-level upgrades into place. The upgrades include mandatory operating rooms and air filtration systems and would likely close more than a dozen clinics across Texas that are unable to meet the basic minimum standards. That means only abortion facilities will remain open in the Houston, Austin, San Antonio and the Dallas-Fort Worth areas.
Meanwhile, some clinics have already closed after another part of the 2013 law required doctors to have admitting privileges at nearby hospitals. Proponents of the law argue that plastic surgeons and other relatively minor procedures are required to meet such a standard, but the powerful abortion industry has put women's health at risk just to make money financing fetal fatalities.
That portion of the Texas abortion law has already been upheld by the 5th U.S. Circuit and is no longer in contest, in fact, the state is now seeking a second outright reversal.
Democrat gubernatorial nominee Wendy Davis became an abortion celebrity after she put on a nearly 13-hour filibuster last summer that temporarily blocked the law in the state Senate. PPD learned that the filibuster had been staged as a political stunt far ahead of the bill's debate as part of an effort to turn Texas Blue (Democratic). However, her opponent in November is Texas Attorney General Greg Abbott, whose office is leading the fight to defend the popularly supported law.
Abbott is the clear favorite to become the next governor of Texas in November, as much of Davis' past was called into question and her working class, single mom hero story fell apart. The Texas Governor race is race rated "Safe Republican" by PPD's 2014 Governor Map Predictions model.
Clinics call the measure a backdoor effort to outlaw abortions, which has been a constitutional right since the Roe v. Wade ruling by the U.S. Supreme Court in 1973.
Attorneys for the state — and now several federal judges — have disagreed with the opposition's assertion that women would be burdened by fewer abortion facilities, saying nearly 9 in 10 Texas women would still live within 150 miles of a provider.