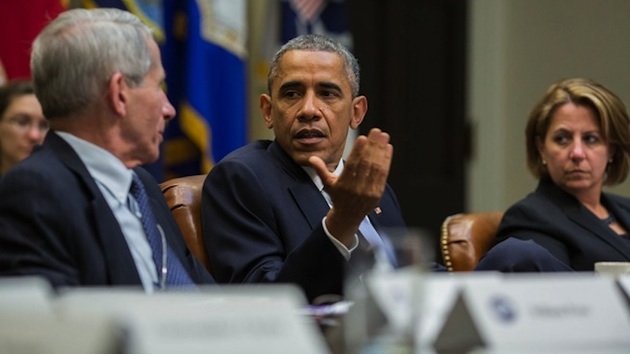 Newly leaked documents obtained by FNC's Adam Housley from a high-level official at the State Department reveal President Obama plans to bring non-U.S. citizens infected with the deadly Ebola virus to the United States. The latest development comes just hours after the Obama administration issued a statement denying any such plans existed.
"Come to an agreed State Department position on the extent to which non-U.S. citizens will be admitted to the United States for treatment of Ebola Virus Disease," the document reads after stating the "purpose" it was drafted.
Yet, less than twelve hours before the document surfaced, the administration denied its existence.
"There are absolutely no plans to MEDEVAC non-Americans who become ill from West Africa to the United States," a State Department official said earlier Tuesday. "We have discussed allowing other countries to use our MEDEVAC capabilities to evacuate their own citizens to their home countries or third-countries, subject to reimbursement and availability. But we are not contemplating bringing them back to the U.S. for treatment."
"Allegations to the contrary are completely false."
It is against federal law to grant a visa to non-U.S. citizens who have infectious diseases, but the document said the administration believes it is a way to show the world the U.S. is committed to fighting Ebola. Fox News host Greta Van Susteren said she and Housley had known about the document, but considering the administration's pushback, they wanted to be sure the story had legs.
"By the way, we have known about this document for some time but we wanted to get the document to verify it," Susteren said on Greta Wire. "It was not enough for us to go with it last week until we had this proof…we wanted the document in our hands…and we got it."
Rep. Bob Goodlatte (R-VA), chairman of the House Judiciary Committee, wrote a letter last week to Homeland Security Secretary Jeh Johnson and Secretary of State John Kerry asking whether such plans exist. However, he said he never received a response from anyone in Homeland Security or the State Department.
According to officials' estimates, each patient would cost the U.S. taxpayers at least $500,000. Each patient, according to the government documents, would require 6 to 7 nurses on 12-hour shifts, which must replace their protective gear upwards of 8 to 10 times each shift. Other expenses include the cost to transport patients to the U.S., and various expenses associated with treatment in hospital facilities.