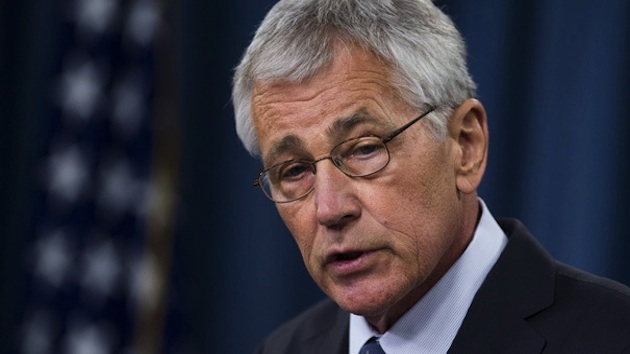 Defense Secretary Chuck Hagel resigned as a result of increasing pressure from the Obama administration to cover for a string of botched international crises, PPD has confirmed.
Hagel, 68, met with President Obama at the White House at 11:00 A.M., shortly before the president announced he accepted his resignation. Obama praised Hagel as "an exemplary defense secretary" who has always "given it to me straight."
However, a White House officials close to the situation said the rhetoric and the reality of the resignation don't comport with each other.
"The president felt he had to fire someone. He fired the only Republican in his cabinet," the source said. "Who is that going to piss off that he cares about?"
Hagel, a Republican, who took office on Feb. 27, 2013, is the first member of Obama's team to step down following the historic midterm elections where Republicans took control over the Senate. The official said the president lost faith in Hagel when it became clear that the Islamic State offensive and beheadings were going to play a key role in the midterm elections.
A senior defense official said that Hagel had already submitted his resignation letter to President Obama Monday morning. They also said that the president willingly accepted it, but Hagel agreed to remain in office until his successor is confirmed by the Senate.
The official said both Hagel and Obama "determined that it was time for new leadership in the Pentagon," adding that they had been discussing the matter over a period of several weeks. However, despite their attempt to make the announcement an expected one, the president is not expected to nominate a new Pentagon chief Monday, according to one official.
Hagel served in the Vietnam War and received two Purple Hearts before serving as senator from Nebraska. He became a vocal critic of U.S. involvement in Iraq, which is largely why Obama nominated him to succeed Leon Panetta as Defense Secretary in his second term.
Recent questions about Hagel's future at the Pentagon were prompted in part by his decision to postpone a long-planned trip this month to Vietnam. Officials had previously misled reporters when they said he needed to remain in Washington for congressional consultations.
Just last week Hagel was asked about the speculation during an interview on the Charlie Rose show, and Rose asked whether he was concerned by the speculation.
"No. First of all, I serve at the pleasure of the president," Hagel said. "I`m immensely grateful for the opportunity I've had the last two years to work every day for the country and for the men and women who serve this country. I don`t get up in the morning and worry about my job. It`s not unusual by the way, to change teams at different times."
A top Republican, who hasn't always been the closest ally of Hagel's, still believes the president is making a scapegoat out of the wrong man.
"Secretary Chuck Hagel and I have had our differences over many years, but I have always considered him a friend, a patriot, and a dedicated public servant who has always put our country first and the needs of our men and women in uniform above his own," Arizona Sen. John McCain said.
"Ultimately, the president needs to realize that the real source of his current failures on national security more often lay with his administration's misguided policies and the role played by his White House in devising and implementing them," McCain added. "That is the real change we need right now."