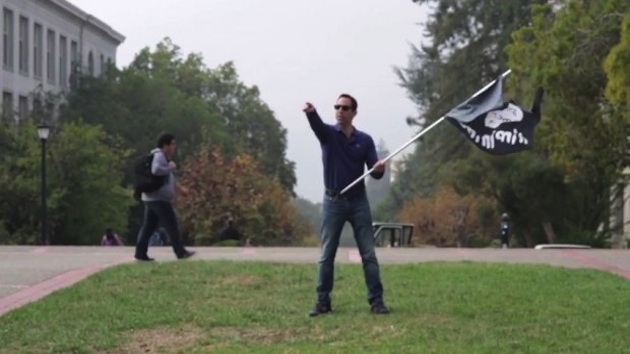 Filmmaker Ami Horowitz recently exposed the prevalence of anti-semitism on the campus of the liberal University of California-Berkeley. Berkeley has long been a liberal mecca, no pun intended, but the footage is deeply disturbing to the old era pro-Israel liberal Democrats, a segment of the party that has all but vanished.
Horowitz waved an Islamic State flag while shouting statements supportive of the terrorist group and condemned the United States, which was met with supportive comments.
However, when he switched to the flag of Israel and condemned Hamas, which is classified by the U.S. State Department as a terrorist group, he received a very different response. Angry students almost immediately responded by accusing the Jewish state of being "killers," while one student simply offered the intellectually challenged comment, "F**K Israel."
It's a stark contrast to the statements os support he received when waiving the black flag of the caliph. One individual, whom we are trying to identify, wished Horowitz "good luck" in his protest in support of Islamic radicals. The film is now coming to light after at least four worshipers — including three Americans — were killed by Islamic radical Palestinians wielding meat cleavers and a gun in a Jerusalem synagogue Tuesday. Palestinians celebrated in the streets the day of the tragedy.
"Israel is a thief in the night, and a thief in the day," one person said. "It's the greatest, Hamas."