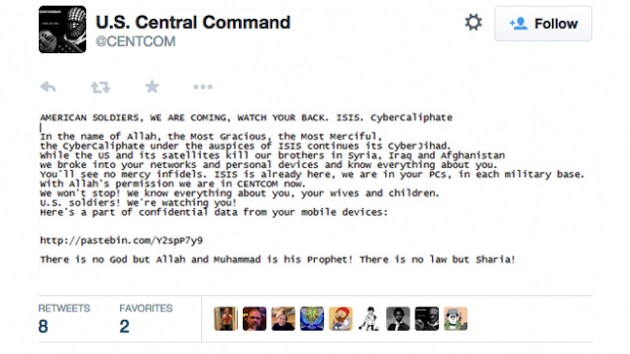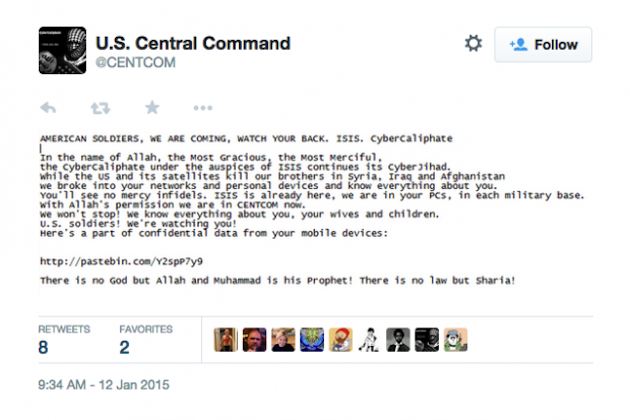 U.S. Central Command's Twitter account and YouTube account were both hacked Monday by ISIS sympathizers, who posted threatening messages. The avatar and background image for @CENTCOM was overtaken with the words "CyberCaliphate" and "I love you ISIS," and the account put out a number of threatening tweets to U.S. military members.
"We can confirm that both the CENTCOM Twitter and YouTube accounts were compromised earlier today," U.S. Central Command said in a statement. "We are taking the appropriate measures. We have no further information to provide at this time."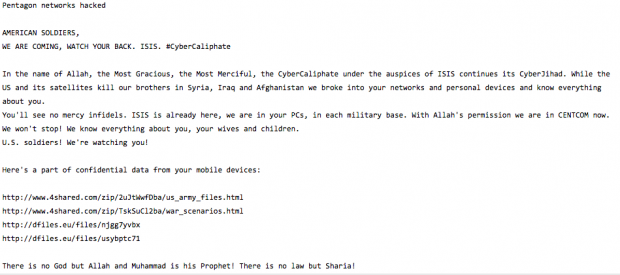 The Pentagon has confirmed that they are aware of numerous phone numbers, email addresses and physical addresses of senior military officials, alongside maps, posted online with threats and calls to attack. However, PPD verified that numerous phone numbers were outdated, though it is unclear whether the physical addresses are, as well.
Both accounts are now suspended, but the ISIS hacking on CENTCOM occurred as President Barack Obama was speaking on cybersecurity.
Meanwhile, White House Press Secretary John Ernest said "there is a big difference between a major data breach and the hacking of a Twitter account."