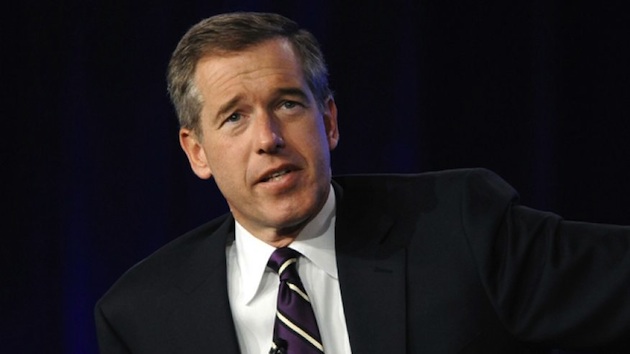 NBC Nightly News anchor Brian Williams admitted he lied about being in a helicopter hit by an RPG in Iraq, a claim oft-repeated by the network over the years. In fact, he claimed he was in a helicopter forced down during the invasion of Iraq in 2003 as recently as Friday night.
Williams, 55, most recently told the story during NBC coverage of a tribute to a retired command sergeant major at a New York Rangers hockey game. On Friday, and in the past, Williams claimed that he was traveling in a Chinook helicopter that was hit by two rockets and small arms fire on March 24, 2003. But, in reality, he arrived at the scene in a separate helicopter about an hour later.
He apparently was never in any danger, and the Chinook that took fire, one of three in its formation, made an emergency landing with no casualties.
"I want to apologize," Williams said on Wednesday night's broadcast of NBC Nightly News. "I said I was traveling in an aircraft that was hit by RPG fire. I was instead in a following aircraft."
However, had it not been for several servicemen and Stars and Stripes, a newspaper that covers the United States Armed Forces, Williams would have continued to perpetuate a lie that most veterans consider amounts to stolen valor.
In a 2008 blog post, Williams said he was flying in a Chinook helicopter as part of a four-chopper formation, and all four took fire.
"The story actually started with a terrible moment a dozen years back during the invasion of Iraq when the helicopter we were traveling in was forced down after being hit by an RPG," Williams said on an earlier the broadcast. "Our traveling NBC News team was rescued, surrounded and kept alive by an armor mechanized platoon from the U.S. Army 3rd Infantry."
Except, crew members from the 159th Aviation Regiment called Williams out on his lie.
Sgt. 1st Class Joseph Miller, the flight engineer on the very aircraft that carried the journalists, told Stars and Stripes that the story was bogus.
"No, we never came under direct enemy fire to the aircraft," he said Wednesday.
Several service members at the scene said they remember seeing NBC reporting Williams was aboard the aircraft that was attacked, despite the claim being a lie.
"It was something personal for us that was kind of life-changing for me. I know how lucky I was to survive it," said flight engineer Lance Reynolds. "It felt like a personal experience that someone else wanted to participate in and didn't deserve to participate in."
Mike O'Keeffe, a door gunner on the actual Chinook helicopter that took fire and suffered actual damage along with Reynolds, told the Stars and Stripes the incident has bothered him since he and others first saw the original report.
"Over the years it faded," he said, "and then to see it last week it was — I can't believe he is still telling this false narrative."
Of course, rather than just admit the story was a lie a take his lumps, Williams first disputed claims to the newspaper that his original report was even a lie, saying that instead he originally reported that he was in another helicopter but that he had confused the events.
"I would not have chosen to make this mistake," Williams told the newspaper. "I don't know what screwed up in my mind that caused me to conflate one aircraft with another."
Pathetic. Williams went on via social media to blame the lie not on the fog of war, but "the fog of memory." The comment has since been removed from Facebook, and his Twitter feed has been temporarily blocked to viewers.
"The admission raises serious questions about his credibility in a business that values that quality above all else," says Howard Kurtz of Media Buzz on FOX News.