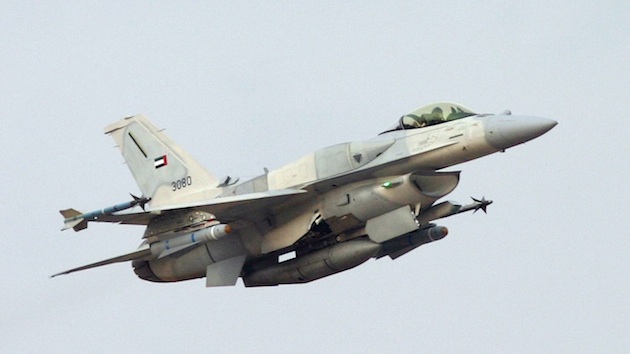 The United Arab Emirates (UAE) recommenced airstrikes against ISIS from a base in Jordan Tuesday morning after halting operations in December following the capture of Lt. Moaz al-Kasasbeh, the Jordanian pilot burned alive in a cage.
The resumption of airstrikes was announced by the Emirates' state news agency, which PPD confirmed occurred Tuesday, but officials did not specify whether the airstrikes occurred in Iraq or Syria.
The deployment of Emirati F-16s to Jordan was announced after the U.S. increased search-and-rescue aircraft and assets closer to the battlefield, which served to alleviate UAE concerns regarding the safety of their pilots. The UAE was deeply concerned public opinion regarding their involvement would turn if a tragedy akin to the previous incident occurred.
However, UAE official state-news claimed decision to send aircraft to Jordan was motivated by "deep belief in the need for Arab collective cooperation to eliminate terrorism."
Meanwhile, since the horrific video emerged showing the murder of al-Kasasbeh, Jordan has carried out at least 56 airstrikes against the Islamic State between Thursday and Sunday, as part of the "earth-shattering" response it vowed after the murder of Kasasbeh.
PPD sources estimate approximately 5,000 ISIS fighters have been killed by the Jordanian response, including top Islamic State terror army commander dubbed the "Prince of Nineveh."