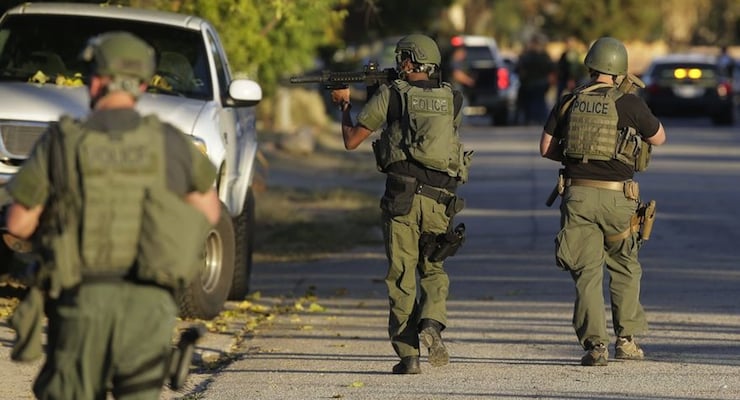 Suspects ID'ed as Syed Rizwan Farook, and Saudi Wife Tashfeen Malik
The police confirmed the two suspects in the San Bernardino shooting in Calif., which killed 14 and injured 17, are Syed Rizwan Farook, 28, and his wife Tashfeen Malik, 27. San Bernardino Police Chief Jarrod Burguan said authorities are "pretty comfortable" Farook and Malik, who were killed in a shootout with police Wednesday afternoon, were the only two shooters in the attack at an office building where Farook's employer, the County Department of Public Health was having a Christmas party.
Here is what we know about the San Bernardino shooting suspects, what we don't know and why we don't know it yet. While the FBI officially refused to rule out terrorism without ruling out workplace violence, most law enforcement officials who spoke to PPD tell us there is something else at play.
"The lack of details, that is out of an abundance of political correctness," one federal law enforcement source told PPD. "Not caution."
The Joint Terrorism Task Force was called on Wednesday to aide in the investigation, which was also being assisted by the Bureau of Alcohol, Tobacco, Firearms and Explosives (ATF).
"They came prepared to do what they did, as if they were on a mission," San Bernardino Police Chief Jarrod Burguan said.
Indeed, the two suspects plotted out a well-planned attack for sometime, the evidence suggests. They used what appear to be two legally purchased assault rifles, two legally purchased handguns, pipe bombs, tactical gear and even Go-Pro cameras. The latter is typically used by Islamic terrorists for the purpose of using in recruitment propaganda video at some point in the future. Investigators also found Farook's home to be booby-trapped prior to the attack.
Read Also — San Bernardino Shooting Suspects Had This Arsenal in "IED Factory" at Home
Farook, who lived in nearby Redlands only 2 miles from the conference building he shot up, worked at the San Bernardino County Department of Public Health for five years and was described by co-workers as a "devout" Muslim. However, coworkers say the Pakistani-American citizen only began to grow his beard out after he returned from Saudi Arabia, where he traveled in April. Family members told The Associated Press Farook married Malik, who is reportedly Pakistani, in Saudi Arabia, though they met on the Internet prior.
"He was very religious. He would go to work, come back, go to pray, come back. He's Muslim," his estranged father of the same name told the New York Daily News.
A source called the suspects' house "an IED facility," as investigators found multiple pipe bombs and small explosives that were strapped to remote-controlled cars. The vests used by the suspects were tactical, or designed to hold large amounts of ammunition, but they were not bullet proof. Worth noting, the signature for the remote control bomb-making technique points to "Inspire," a periodical magazine published by Al Qaeda. It is also very similar to the device design used by Chechen brothers Tamerlan and Dzhokhar Tsarnaev, who killed 3 people and injured 264 others when they detonated two pressure cooker bombs during the Boston Marathon on April 15, 2013.
Police and federal law enforcement officials are still piecing together a timeline of events, but here is how they believed it all unfolded.
The initial shooting happened shortly before 11 a.m. local time at the state-run center, which includes three buildings where developmentally disabled people of all ages are treated. It was initially reported that Farook left the facility angry prior to returning with Malik, prompting initial claims that the incident was nothing more than workplace violence. Police now concede a coworker, now deceased, did get into a heated debate with Farook.
READ ALSO — LA Times Damages Credibility Covering San Bernardino Shooting, Several Outlets Followed Suit
However, law enforcement officials don't put too much stock in this theory as a motive, as the evidence and weaponry more than suggests a well-thought out, pre-planned attack. In fact, officials do not believe that the Christmas party was the initial target for the couple.
Approximately four hours after the shooting, police were already looking for a dark SUV and staking out his home. When they saw a vehicle matching that description, law enforcement pursued the SUV and a gun battle ensued at roughly 3 p.m. local time. One officer suffered a minor injury, and investigators are privately weighing the theory that the couple was returning for more weapons and ammunition before going back to the complex to engage authorities.
Yet, publicly they are taking a very different position on whether this was a preplanned act of terrorism, despite stressing they will follow the evidence.
"It is a possibility, but we don't know that," said Assistant Regional FBI Director David Bowdich. "It's possible it goes down that road. It's possible it does not."
Meanwhile, a neighbor said Farook lived with his wife, mother and their 6-month old baby, whom the couple had dropped off earlier that morning with a grandparent.
"I did notice there were lots of packages being dropped off and he was in the garage working on stuff," the neighbor said. She also said that she thought about alerting the authorities to their suspicious activity, but was afraid to be labeled Islamophobic.