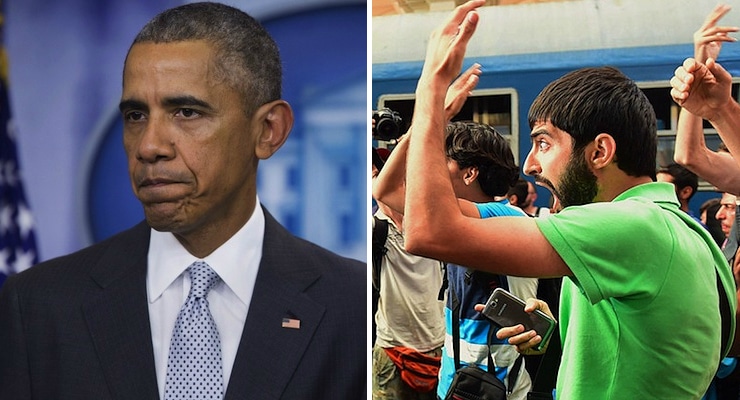 How Many Middle East Migrants and Refugees Proved to Be Radical Islamic Terrorists?
This past week Senator Jeff Sessions, R-Ala., released a list of recent radical Islamic migrants and refugees who had engaged in terrorist actions against the United States of America. His list was far from complete. I am adding an additional 14 immigrants/refugees, but my list, too, is far from complete.
Please keep in mind that those listed here are not listed for engaging in actions that would only kill one or two Americans. Their goals were much more devastating.
Credit for making this information available belongs to the Investigative Project on Terrorism.
(If you have others you would like to add to this list that were arrested after September 11, 2001, please do contact me with the information. I will credit your contribution and add them to this list.)
2004
Ali Al-Timimi, son of Iraqi immigrants, was born in the Washington-D.C. area. He was arrested in 2004 and convicted in 2005 of soliciting and engaging others to levy war against the United States and attempting to contribute services to the Taliban.
Fawaz Damra, born in the West Bank of Israel, trained in Islamic law (Sharia) while in Jordan. He moved to America in the mid-1980s and became the Iman of the al-Farooq mosque in Brooklyn, New York, where he remained from 1986 to 1990 before moving to Cleveland. In the Buckeye State, from 1991 to 2004, he headed up northeastern Ohio's largest mosque, the Islamic Center of Greater Cleveland. Fawaz raised funds for the Palestinian Islamic Jihad through the Islamic Committee for Palestine (ICP), and was listed as an unindicted co-conspirator implicated in the 1993 World Trade Center Bombing. His phone was tapped by the FBI, who overheard him discussing funding suicide bombers' families with Sami Al Arian, also listed below. Fawaz was deported in 2007 for lying on his citizenship application.
Sami Al Arian, a Kuwaiti-born immigrant, was arrested for his leadership role in the Palestinian Islamic Jihad (PIJ). He was sentenced on May 1, 2006, to 57 months in prison, which includes 38 months for time served, and agreed to be deported after serving out his prison term. He was deported in the Spring of 2015. Yet, his daughter Laila is listed as a visitor in the White House log.
2007
Adnan Babar Mirza was a Pakistani on a F-1 Student Visa that permitted him to enter the United States for educational purposes on August 15, 2001. The visa expired on December 12, 2005. He pled guilty to 13 counts, many related to terrorism on September 19, 2007.
2009
2010
Ahmad Wais Afzali, a.k.a. Muhammad, is an iman who was deported from the U.S. to Saudi Arabia on July 6, 2010. He was sentenced to deportation per his plea agreement for aiding Najibullah Zazi by telling him that he was under surveillance by the FBI. His crime was protecting a potential mass murderer.
2011
Hamid Seifi, also known as HANK SEIFI, is an Iranian born United States national who pleaded guilty of conspiracy to illegally export military components for fighter jets and attack helicopters from the United States to Iran on July 1, 2011.
2012
Nima Ali Yusuf, 26, a Somali-born refugee-now-permanent resident of the U.S. pleaded guilty on November 7, 2012, to two counts of providing material support and resources to al-Shabaab, a U.S.-designated terrorist group. She received a sentence of 8 years.
2013
Asia Siddiqui, a 31-year-old native of Saudi Arabia, was arrested in May 2013 for terror-related incidents. According to the New York Daily News, "Siddiqui was arrested in possession of propane gas tanks and instructions on converting them into bombs. And authorities say Valentzas became obsessed with pressure cookers after the 2013 Boston Marathon bombing."
2015
Abdullahi Mohamud Yusuf, a Somalian-American former refugee, pleaded guilty to conspiracy to provide material support and resources to the Islamic State (ISIL, ISIS) on February 26, 2015.
Mehrdad Yasrebi, an Iranian-American, pleaded guilty to illegally funneling millions of dollars to Iran in violation of the longtime U.S. trade embargo.
[mybooktable book="civilization-jihad-and-the-myth-of-moderate-islam" display="summary" buybutton_shadowbox="true"]