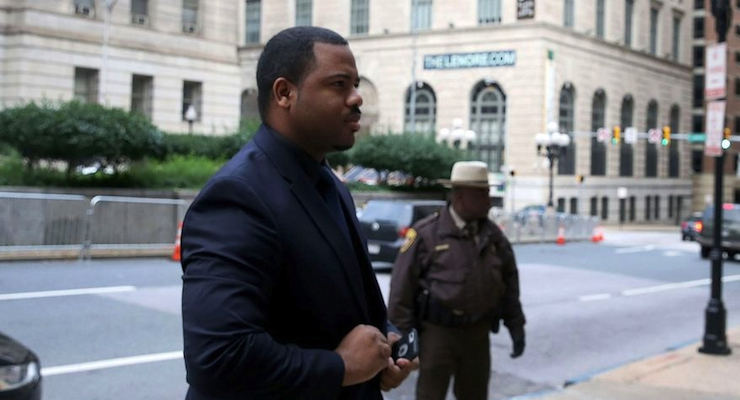 Circuit Judge Barry Williams declared a mistrial in the case of the first officer charged in the death of Freddie Gray after jurors in Baltimore remained deadlocked on all counts. The charges against Baltimore Police Officer William Porter carried maximum prison terms totaling 25 years.
Joseph Murtha, Officer Porter's defense attorney, got up with his client and a female supporter and walked out of the courtroom without comment. Baltimore City State's Attorney Marilyn Mosby, who brought charges against six officers in the arrest and death of Gray, also declined comment.
"When Officer Porter began this journey through the judicial process, we asked that everyone allow him his day in court as is promised to all citizens," Gene Ryan, president of the Fraternal Order of Police Lodge No. 3, which represents Baltimore police officers, said in a statement.
"Seven months later, Officer Porter is no closer to a resolution than he was at that time. Our legal system, however, allows for outcomes of this nature, and we must respect the decision of the Jury, despite the fact that it is obviously frustrating to everyone involved."
It was not immediately clear whether Porter would be tried again, who is the first of six officers slated to be tried for the death of 25-year-old Gray, who allegedly suffered spinal injuries while in the police van after being arrested on April 12. He died a week later.
Though an administrative hearing was scheduled for Thursday to discuss a possible retrial date, experts observing the trial weren't surprised with the outcome. In closing arguments, the prosecution made what was widely believed to be a major mistake when they conceded that ensuring prisoners wear seat belts was not the norm. Yet, prosecutors' case hinged on Porter being partly responsible for failing to buckle Gray into a seatbelt and for not calling an ambulance when Gray indicated he was in distress. Porter told jurors that he didn't think Gray was injured and that it was the van driver's responsibility to fasten Gray's seat belt.
Meanwhile, a small group of protesters was seen outside the courthouse chanting "send those killer cops to jail," after the judge declared the mistrial. The sheriff called it an unlawful assembly, and at least one protester was arrested. In the wake of the Baltimore riots in April, polls showed Americans continued to support police over activists claiming rampant police brutality is a reality in the country. The surveys of Baltimore were in line with polling PPD examined after the riots in Ferguson, Missouri last August, following the justified police shooting of a black 18-year-old, Michael Brown.
While there was a significant difference between the sentiments of white and black America — or more accurately characterized, white and urban black America — just 25% said the mob protests were primarily legitimate outrage. However, 52 percent saw it mostly as criminal behavior, or 11 percentage points less than those polled over Baltimore. A majority of American adults in most all demographic groups believe the mob violence in Baltimore was primarily criminal.
Mayor Stephanie Rawlings-Blake, who took heavy criticism for saying she wanted to give rioters space to destroy, repeated calls for Baltimore residents to respect the outcome of the trial.
"In the coming days, if some choose to demonstrate peacefully to express their opinion, that is their constitutional right. I urge everyone to remember that collectively, our reaction needs to be one of respect for our neighborhoods, and for the residents and businesses of our city," she said in a statement. "As a unified city, we must respect the outcome of the judicial process. In the case of any disturbance in the city, we are prepared to respond. We will protect our neighborhoods, our businesses and the people of our city."
However, NAACP National President and CEO Cornell William Brooks called for a continuation of protests "while using all of the available nonviolent means to seek justice for a violent death."
"While we respect the legal process and still await justice, the death of Freddie Gray and other tragedies continue to point to the need for systemic reform both within the municipal police departments and statewide,"he said in a statement.
Three black men, four black women, two white men and three white women made up the jury. Gray was black. Porter is also black, as are two of the other five officers charged.