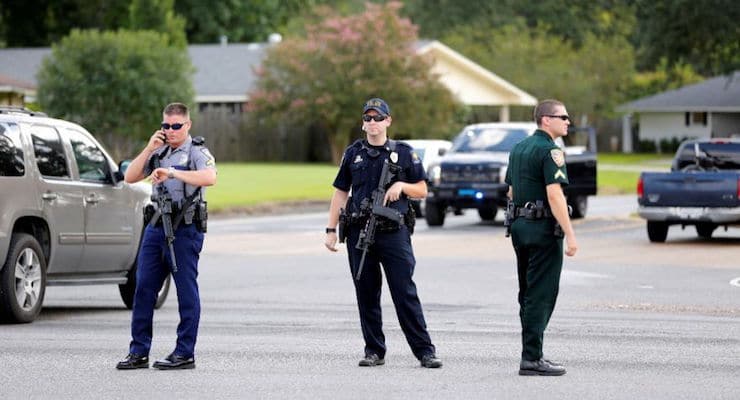 The man who killed 3 Baton Rouge police officers has been identified as Gavin Long, 29, from Kansas City, Missouri, People's Pundit Daily confirmed. Officials said the law enforcement officers were shot Sunday after responding to a call at approximately 8:40 a.m. regarding a man walking down Airline Highway with an assault rifle outside a store in Baton Rouge located roughly a mile from police headquarters.
Long, of Kansas City, Mo., carried out the attack on his 29th birthday. He served in the U.S. Marine Corps for five years, including one deployment to Iraq, according to officials.
Louisiana Gov. John Bel Edwards called the shooting of Baton Rouge deputies and officers "unjustified" and "an absolutely unspeakable heinous attack" Sunday, as the city mourned the deaths of three officers and prayed for the recovery of one "fighting for his life."
While authorities said there is no active shooter in Baton Rouge, they called the investigation as "ongoing" and were "not ready to say" he acted alone, though they currently believe the suspect killed was the sole shooter. A police spokesman told the Associated Press that two "persons of interest" in the killings have been detained near Baton Rouge.
"We believe that the person who shot and killed our officers, that he was the person that was shot and killed at the scene," Col. Mike Edmonson told reporters at an afternoon press conference.
Two of the deceased officers are from the Baton Rouge Police Department and the third is from the East Baton Rouge Parish Sheriff's Office. A fourth officer, a sheriff's deputy, is in critical condition. Two additional officers suffered non-life threatening injuries. Authorities have identified the three Baton Rouge police officers killed in an ambush attack as Montrell Jackson, Matthew Gerald and Brad Garafola.
Officer Jackson had a 4-month-old child.
The shooting happened after a plot to murder multiple police was though to be foiled following the shooting death of Alton Sterling in Baton Rouge. Baton Rouge and other cities across the nation have seen anti-police protests since the deaths this month of Sterling and Philando Castile, two black men shot and killed by cops.