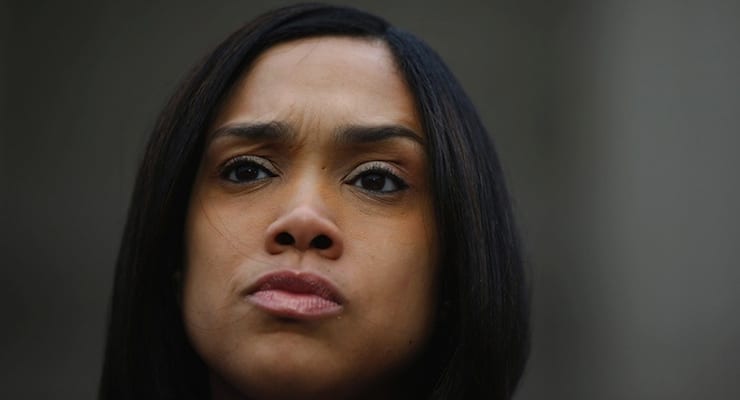 Baltimore Circuit Court Judge Barry Williams found Lt. Brian Rice, the highest ranking officer involved in the Freddie Gray case not guilty. Rice was the fourth officer to stand trial and the verdict comes after Judge Williams previously acquitted Officers Edward Nero and Caesar Goodson Jr. of all charges.
Judge Williams ruled that the state clearly failed to prove Lt. Rice had an evil intent and tamped up his rhetoric with stronger language than heard in the previous acquittals. He said prosecutors were asking him to make up evidence to support a conviction, but that "imaginings do not serve as a substitute for evidence."
"A mere error in judgment is not enough to show corruption," Judge Williams said, emphasizing that there was a difference between civil negligence and criminal liability
Lt. Rice, who walked into the courtroom on Monday with Officer Goodson behind him, was charged with involuntary manslaughter, reckless endangerment and misconduct in office. Judge Williams dropped a second-degree assault charge during the bench trial and prosecutors dropped a second misconduct-in-office charge.
The other previous case against Officer William Porter ended in a mistrial in December, 2015, which is scheduled to be retried in September, 2016. Officer Garrett Miller will go before a judge on July 27, and Sgt. Alicia White's proceeding begins Oct. 13.
Lt. Brian Rice makes his way into the courthouse. A verdict in #RiceTrial is expected today. pic.twitter.com/Yv6MHn0dNI

— Colin Campbell (@cmcampbell6) July 18, 2016
Meanwhile, there are growing calls to disbar Baltimore State's Attorney Marilyn Mosby over her conduct during the investigation and prosecution. Professor John F. Banzhaf, a law professor at George Washington University School of Law, filed a disciplinary complaint with the Maryland Bar Counsel that states Mosby violated multiple provisions of the Maryland Lawyer's Rules of Professional Conduct (RPC), to include withholding exculpatory evidence, making inappropriate statements in public (to poison the jury) and continuing to prosecute a case after it has been established there is insufficient evidence to support a conviction.
The professor is known for bringing complaints against against overzealous prosecutors in high profile cases, giving him the reputation for being a justice system watchdog. He played a pivotal role in the disbarment and successful civil lawsuits against Mike Nifong, the prosecutor who continued to proceed in the Duke lacrosse case even when it became clear it was a race-baiting, manufactured incident.
Professor Banzahaf called Marilyn Mosby "a runaway prosecutor" and claims she never even had probable cause to charge the six officers in the death of Freddie Gray. Further, he accuses Ms. Mosby of only filing those charges to stop the destructive rioting in Baltimore, something Mayor Stephanie Rawlings-Blake infamously said she wanted to give them "space" to do.
"I heard your call for 'No justice, no peace.' Your peace is sincerely needed as I work to deliver justice on behalf of this young man," Mrs. Mosby said in May of 2015. Now, with more "not guilty" verdicts almost assuredly on their way (from the bench of a black judge), a repeat riot in an already economically depressed city is increasingly likely.
Judge Williams may have handed a gift to those calling for Mosby to be disbarred. He said in the verdict on Monday that prosecutors misapplied the law regarding reckless endangerment. He stress that the law does not consider a failure to follow general orders, which had not even become official department policy, as proof of misconduct.
The verdict also comes at a time of increased tension across the nation over police shootings, the latest being the cases of Alton Sterling and Philando Castile. Both men were shot and killed, the former in Baton Rouge, Louisiana and latter in Falcon Heights, Minnesota. A second video surfaced showing the shooting of Mr. Sterling, which appears to show a gun in his right pocket. The video of Mr. Castile was taken by his girlfriend but only catches the moment after he was shot by a police officer.
On Sunday, three police officers were shot and killed in Baton Rouge, Louisiana. The lone shooter, Gavin Long, who may or may not have had accomplices, was also killed. This follows the ambush shooting of five Dallas police officers the week prior by a black power nationalist and alleged member of the New Black Panther Party during a Black Lives Matter protest.
In Baltimore, sixty-five people taking part in a march against alleged police brutality were arrested over the weekend after they blocked part of Interstate 83, police said. Of the 65 arrested, 10 were juveniles. Those who were arrested were charged with failure to obey and illegally walking on a highway. While blocking Interstate 83, protesters chanted "hands up, don't shoot." The moniker was built upon a lie that took hold during the outrage in Ferguson, Missouri, over the police shooting of 18-year-old Michael Brown. Yet, despite the forensic evidence and witness testimony showing Brown was the aggressor who tried to take Officer Darren Wilson's gun, it is still widely cited during BLM protests.