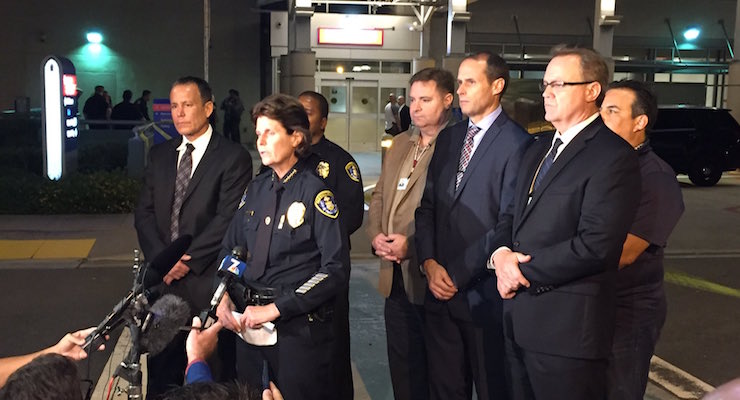 Two San Diego police officers were shot after a driver they stopped Thursday night opened fire, killing one and severely wounding the other. The officer was taken into surgery and the police department said in a statement he is expected to survive.
"Chief Shelley Zimmerman just left the hospital where our second Officer has just come out of surgery," the San Diego Police Department said in a statement on social media. "He is expected to survive!"
Officials said the shooter was arrested and they were not pursuing any other suspects. Neither the police officers' names or the alleged gunman's identity were immediately released.
The shooting comes as law officers around the country are on alert following the targeted killing of numerous officers in Dallas and Baton Rouge, Louisiana, this month. Five Dallas police officers were targeted and killed on July 7 by an alleged New Black Panther Party member during a Black Lives Matter protest, and three Baton Rouge law enforcement officers were targeted and killed by a gunman on July 16.
Statistics show the number of police officers killed in the line of duty had been on a downward trajectory since 1970. But this year, cop deaths are up more than 50 percent, and the victims in Dallas, Baton Rouge and other cases were targeted for assassination rather than killed in the process of confronting dangerous criminals.
According to the National Law Enforcement Officers Memorial Fund, the number of officers fatally shot is already up 56 percent compared with last year.