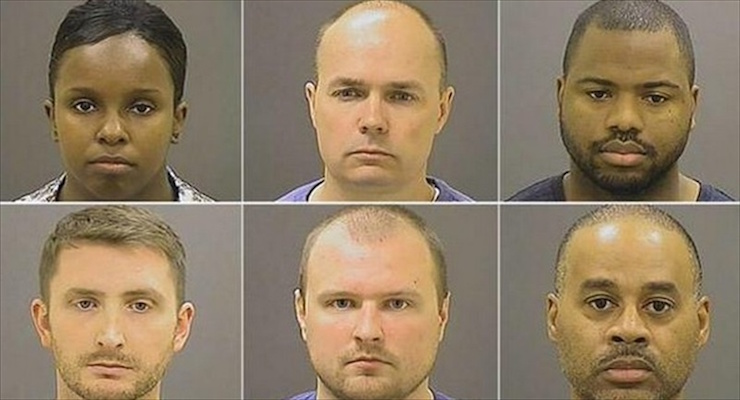 Six Baltimore police officers were fired as a result of a yearlong Justice Department investigation culminating in a scathing report released Wednesday. Further, the Baltimore police department agreed to negotiate court-enforceable reforms to stop what the report called routinely discriminating against blacks.
The federal investigation by the DoJ was launched after the death of Freddie Gray, a 25-year-old black man whose neck was broken while unrestrained in the back of a police van in April 2015. The death, in which six police officers were charged and acquitted, sparked protests and riots.
Nevertheless, the report claims that Baltimore police officers make too many stops–mostly in poor, black neighborhoods–without legal justification and unlawfully arrest citizens when officers "did not like what those individuals said." According to the report, black residents account for approximately 84% of stops, but they represent just 63% of the city's population.
Further, they make up 95% of the 410 people stopped at least 10 times by officers from 2010-15, while during the same period no individuals of any other race were stopped more than 12 times. However, they do not address the level of crime committed by blacks in relation to other races and their percentage of the population.
"These violations have deeply eroded the relationship between the police and community it serves," Vanita Gupta, the head of the Justice Department's civil rights division, said during a news conference alongside the Mayor Stephanie Rawlings-Blake and Police Commissioner Kevin Davis.
Davis said six officers who committed egregious violations have been fired this year. The report, which includes interviews with residents, was a damning indictment not only of the city's police officers' tactics, but their motives and collective character.
"BPD teaches officers to use aggressive tactics," the report reads. "BPD's trainings fuel an 'us vs. them' mentality we saw some officers display toward community members, alienating the civilians they are meant to serve."
State's Attorney Marilyn Mosby, the city's top prosecutor, said the report serves to "confirm what many in our city already know or have experienced firsthand."
"While the vast majority of Baltimore City Police officers are good officers, we also know that there are bad officers and that the department has routinely failed to oversee, train, or hold bad actors accountable," she said in a statement.
Six officers, three white and three black, were charged in the death of Mr. Gray, but the charges against all have been dropped. The development came after Baltimore Circuit Court Judge Barry Williams found Lt. Brian Rice, the highest ranking officer charged in the Gray case, not guilty. Lt. Rice was the fourth officer to stand trial was tried after Judge Williams, who is black, previously acquitted Officers Edward Nero and Caesar Goodson Jr. of all charges. Another officer's trial ended in a mistrial.
The charges were dropped before they could serve as an embarrassment to Ms. Mosby, who was slammed by and legal scholars observing the Gray case. Ms. Mosby, continues to face growing calls for disbarment over her conduct during the prosecution. Indeed, it was Ms. Mosby who was ordering the offensive policing in the area at the time of Gray's arrest. A memo obtained in the wake of the investigation shows Ms. Mosby was encouraging the very tactics she now denounces.
Professor John F. Banzhaf, a law professor at George Washington University School of Law, filed a disciplinary complaint with the Maryland Bar Counsel that states Mosby violated multiple provisions of the Maryland Lawyer's Rules of Professional Conduct (RPC), to include withholding exculpatory evidence, making inappropriate statements in public (to poison the jury) and continuing to prosecute a case after it has been established there is insufficient evidence to support a conviction.
Nevertheless, the Mayor Rawlings-Blake and Commissioner Davis promised the report would serve as a blueprint for sweeping changes to the department.