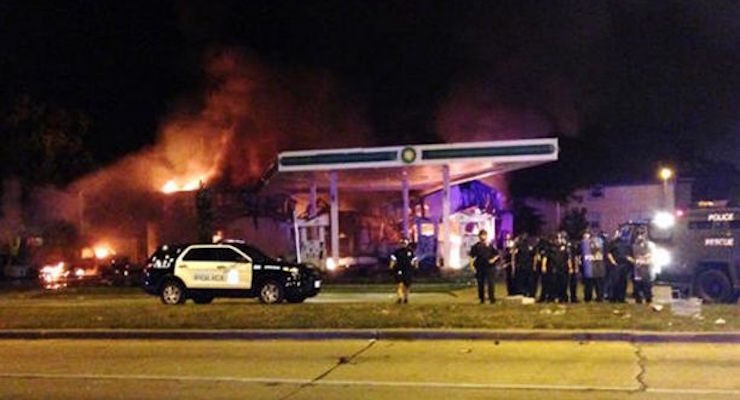 Wisconsin Gov. Scott Walker has put the National Guard on standby after one person was shot at a Milwaukee protest on Sunday. Police officers used an armored vehicle to obtain the victim and take them to the hospital after violence erupted for a second night following the police shooting of a black man.
Around 11 p.m., two dozen officers in riot gear confronted roughly 150 people who blocked an intersection near a fatal shooting Saturday afternoon before more arrived. Police were attempting to disperse the crowd and threatened arrests after protesters threw bottles and rocks at police and shots were fired.
Police Chief Edward Flynn said earlier Sunday the man whose death sparked rioting Saturday night was shot after he turned toward an officer with a gun in his hand. Chief Flynn also said the shooting was still under investigation and authorities were awaiting autopsy results. However, a silent video taken from the unidentified officer's body camera shows he "certainly appeared to be within lawful bounds."
Crowd breaks widows of unoccupied squad near Sherman and Auer. Other squad set afire and broken windows on another. pic.twitter.com/Jux2mJZYyQ

— Milwaukee Police (@MilwaukeePolice) August 14, 2016
Sylville K. Smith, 23, fled a traffic stop on Saturday and was armed. Retired homicide detective Rod Wheeler said in an interview Monday that "on the surface, it appears this shooting was justified."
Meanwhile, Mayor Tom Barrett, who ran multiple times unsuccessfully against Gov. Walker, said the video evidence clearly showed a gun in Smith's hand. But he called for sympathy for the Smith family.
"A young man lost his life yesterday afternoon," Mayor Barrett said. "And no matter what the circumstances are, his family has to be hurting."
Indeed, Mr. Smith's sister told The Associated Press that the family wants prosecutors to charge the officer, despite the facts. Milwaukee County Sheriff David Clarke said Mr. Smith was known to police and arrested 13 times. Online court records showed a range of charges against him, including misdemeanors and violent felony offenses. Chief Flynn added the officer had told Smith to drop the gun and he did not do so.
#BlackLivesMatter in #Milwaukee setting gas stations on fire and breaking bus stops..etc pic.twitter.com/Pko99NKX29

— адмира́л MAGATRON (@MEGATRON_1488) August 14, 2016
"It was in his hand. He was raising up with it," Chief Flynn said.
Still, as was the case in so many other cities erupting in riots and violence, the evidence doesn't matter to many. Six local businesses were burned in the riots along with an unknown number of vehicles, and seventeen people were arrested. Chief Flynn said four officers were hurt from flying concrete and glass, though all of them had been treated and released from hospital.
Milwaukee Alderman Khalif Rainey said black residents in the city are "tired of living under this oppression."
"Now this is a warning cry. Where do we go from here? Where do we go as a community from here?" he asked.
The National Guard will be answering that question tonight as 125 Guard members have already reported to local armories and await instructions. Chief Flynn said they would not be deployed unless needed, as 150 police officers specially trained in protests have assembled for Monday night, as well.