DEVELOPING: Abdul Razak Ali Artan, an 18-year-old Somali refugee and student, was behind the attack involving a car and butcher knife on the campus of Ohio State University Monday that left nine people injured, officials said.
The attacker, identified by authorities as first-year student, plowed his vehicle into the crowd before he got out and began attacking people with a butcher knife. He was shot and killed by a campus police officer.
Monica Moll, the school's public safety director, identified Alan Horujko as the campus officer who engaged the suspect as he was attacking people with a butcher knife. Officer Alan Horujko shot and killed him within minutes of the slashing attack.
According to law enforcement sources, Artan came into the U.S. as a Somali refugee granted status as a legal permanent resident. While the motive behind the attack is still not certain, law enforcement sources say investigators are not ruling out anything at this point, including terrorism. There has been a clear but taboo issue with the radicalization of Somali immigrants who are not assimilating, particularly in enclaves in Minnesota.
Columbus Police Chief Kim Jacobs confirmed authorities were looking into whether it was a terrorist attack. But Ohio State Police Chief Craig Stone said he was clearly intentional in his actions, which included driving over a curb and into pedestrians.
"This was done on purpose," he said.
The attack did share similarities with the terrorist attack in Nice, France, which killed at least 77 people gathered on Bastille Day. The method sounds like an instructional straight out of al-Qaeda's "Inspire" magazine for jihadis and produces a scene outlined on page 54 in a 2010 issue.
Pick your location and timing carefully. Go for the most crowed locations. Narrower spots are also better because it gives less chance for the people to run away. To achieve maximum carnage, you need to pick up as much speed as you can while still retaining good control of your vehicle in order to maximize your inertia and be able to strike as many people as possible in your first run.
Still, while investigators noted it is too early at this point to ascertain the suspect's motive for the attack, though the more that is learned the more it becomes clear.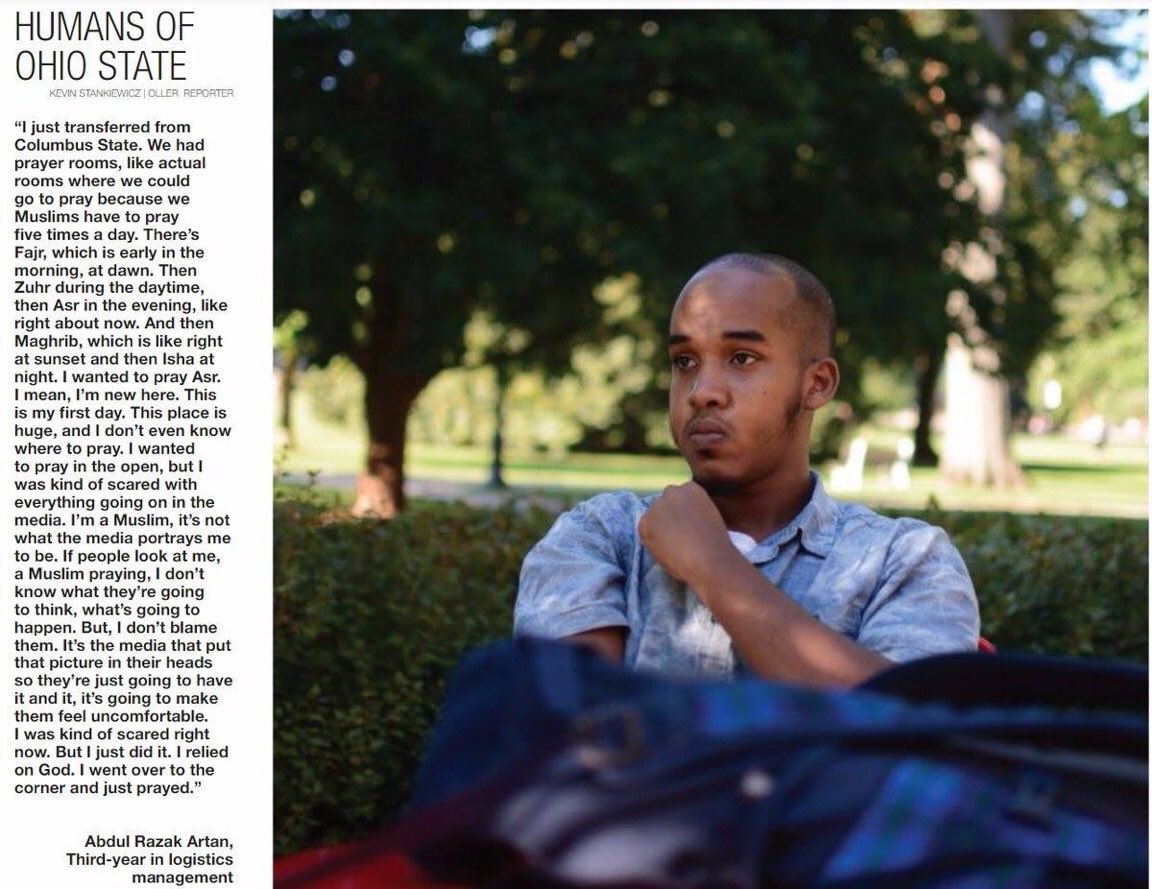 He spoke with the Lantern, a campus publication, on his first day at OSU and said that he was "kind of scared" to pray in public.
"If people look at me, a Muslim praying, I don't know what they're going to think, what's going to happen," Artan was quoted as saying in the Lantern.
On his Facebook page before the attack, he wrote that he had reached a "boiling point" and actually referenced "lone wolf attacks," as well as radical cleric Anwar al-Awlaki.
"America! Stop interfering with other countries, especially Muslim Ummah (community). We are not weak. We are not weak, remember that," the post said.
Ohio State University said in a statement the injuries in the attack included stab wounds, and being struck by a vehicle.