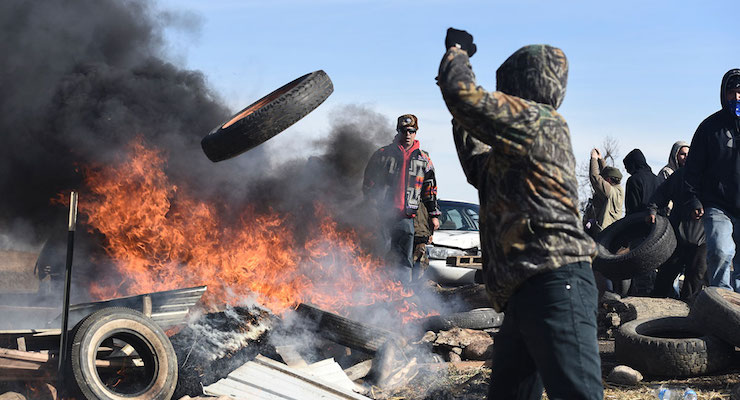 U.S. District Judge Daniel Hovland said Dakota pipeline protesters "are unlikely to succeed on the merits of their claims" in a lawsuit against police. While he didn't immediately rule on a motion filed Monday by law enforcement to dismiss the lawsuit, Judge Hovland said protesters were trespassing during the confrontation and that "no reasonable juror could conclude" they acted in an unreasonable manner.
The plaintiffs claimed the police used excessive force in a clash that injured more than 200 protesters and allege officers violated their civil rights. The confrontation occurred from Nov. 21 to Nov. 22 at a bridge blockaded by protestors near the location pipeline opponents have gathered in the hundreds and sometimes thousands since last summer. The effort is meant to oppose a $3.8 billion project they believe could harm drinking water and Native American cultural sites.
That's disputed by Energy Transfer Partners, the Texas-based developer of the four-state pipeline to move North Dakota oil 1,200 miles through South Dakota and Iowa to Illinois. Protesters, who were accused of becoming violent, are suing for unspecified damages.
However, Judge Hovland has denied an earlier request by pipeline opponents to prohibit police from using such crowd control tools as chemical agents and water sprays as a means of dispersing protesters.
"The rights of free speech and assembly do not mean, and have never meant, that everyone who chooses to protest against the Dakota Access pipeline may do so at any time, any place, and under any set of conditions they choose in total disregard of the law," Judge Hovland said. "To allow that to occur would result in anarchy and an end to the rule of law in civilized society."
[social-media-buttons]