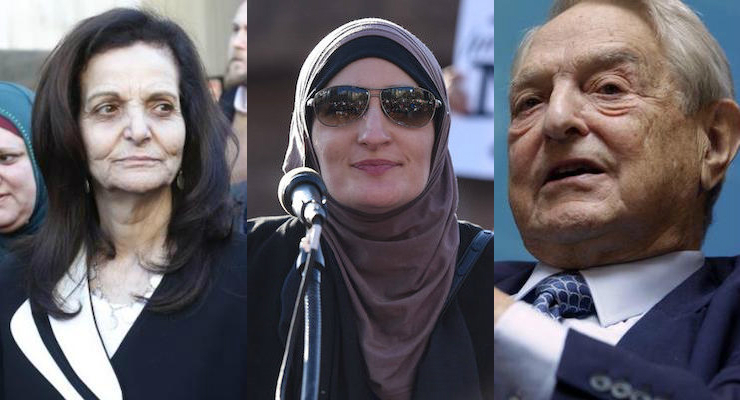 Big Media paints them as a mainstream movement, but the anti-Trump "women's rights" events are funded by George Soros and organized by Sharia supporters and terrorists. The groups behind latest "Day Without a Woman" event, which took place on Wednesday for "International Women's Day," received $246 million from billionaire George Soros.
Soros, a financier and former Nazi sympathizer, has played a key role in in the so-called "resistance" against President Donald J. Trump.
According to the conservative Media Research Center, the march's 544 partners, 100 groups received funding from Soros that totaled $246 million, including Planned Parenthood, the Center for American Progress and People for the American Way (PFAW).
"Those donations represent just a fragment of Soros' massive global influence," the Media Research Center said on its website. "His Open Society Foundations have given away more than $13 billion to push his globalist, anti-American views."
Let's put a few faces to the movement, which include a Sharia law supporter and activist.
[social-media-buttons]
Linda Sarsour, one of the main organizers of the Women's March on Washington and a pro-sharia law Palestinian-American activist, was arrested in New York at a follow-up event on International Women's Day. Sarsour, an outspoken supporter of Sharia law and the anti-Israel Boycott, Divest and Sanctions movement, pretends to be a moderate and claims to be a women's rights activist. But her actions adn tweets tell a different tale.
"sharia law is reasonable and once u read into the details itmakes a lot of sense. People just know the basics."

"Sharia law is misunderstood & has been pushed as some evil Muslim agenda."

"If you are still paying interest than Sharia Law hasn't taken over America. #justsaying."

"You'll know when you're living under Sharia Law if suddenly all your loans & credit cards become interest free. Sound nice, doesn't it?"
The Women's March group said they will "always have her back" after a tweet surfaced in which she expressed a desire to conduct a grotesque of violence toward Brigitte Gabriel Ayaan Hirsi Ali, two outspoken critics Sharia and its real-world impact on women.
"She's asking 4 an @$$ whippin'," she tweeted. "I wish I could take their vaginas away – they don't deserve to be women." Ayaan Hirsi Ali is a victim of female genital mutilation at age eight. It is a common and horrific act practiced by Muslim Islamists, during which they cut out the clitoris and labia, a process usually without preparation or anaesthetic. The wound is sewn up, so scar tissue forms to largely close the vaginal opening and leaving the victim to suffer lifelong pain and complications
[social-media-buttons]
[brid video="120488″ player="2077″ title="Activist calls women&#39s march organizer a &#39fake feminist&#39″]
This is a movement organizers say is meant to spotlight on gender inequality, critics say it is intended to protest President Donald Trump. The strike was created by the same organizers of the historic Women's March on Washington in January, which drew hundreds of thousands in protest of the president.
Rasmea Yousef Odeh, a Palestinian activist who was convicted in a 1969 Jerusalem terrorist bombing that left two Israeli men dead, was another lead organizer. She was released 10 years later as part of a controversial prisoner exchange.
"So, here we are in 2017 and a convicted terrorist who murdered two people with impunity (even Odeh's cousin confirmed in a documentary that she was responsible for the attack) is a leading figure in the contemporary women's movement," said Willem Hart in an op-ed on the B'nai B'rith Canada website.
In December 2016, a federal judge in Detroit granted a new trial for her in an immigration fraud case for failing to disclose that she had been convicted and imprisoned in Israel.
"And, just as Linda Sarsour's political agenda was given credence in January, not to mention landing an audience of millions of people, now yet another vehemently anti-Israel, anti-Zionist, and antisemitic 'activist' will be given a platform to spew her radical ideologies," Mr. Hart added.
Does this movement sound like it represents mainstream American women?
[social-media-buttons]