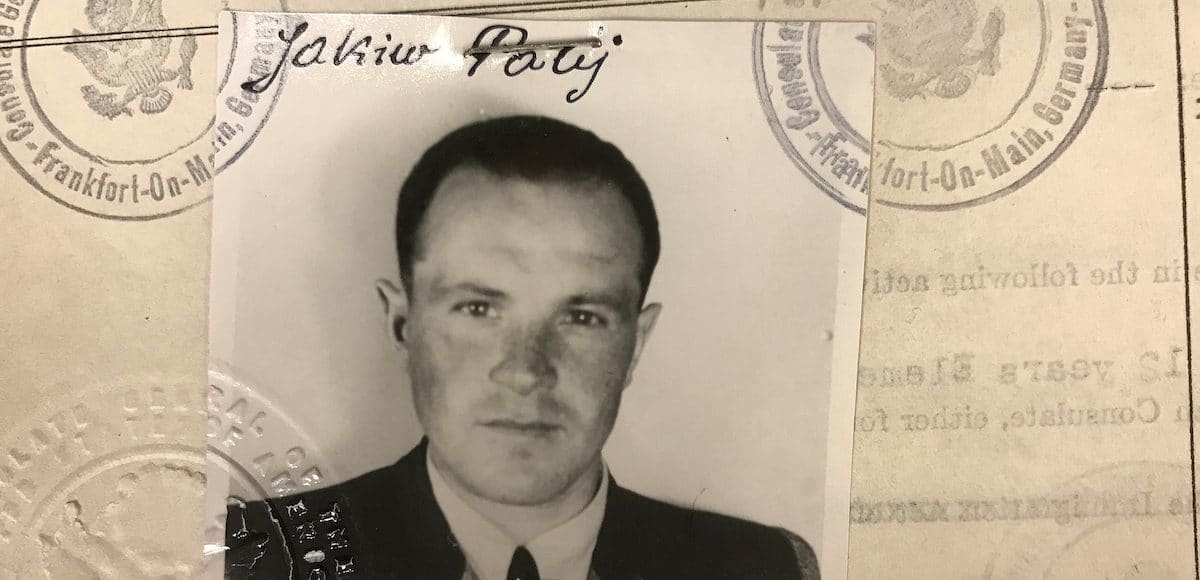 Jakiw Palij, a former Nazi labor camp guard living in Queens, New York, has been removed by U.S. Immigration and Customs Enforcement (ICE) to Germany. The Justice Department (DOJ) made the announcement
"The United States will never be a safe haven for those who have participated in atrocities, war crimes, and human rights abuses," Attorney General Jeff Sessions said. "Jakiw Palij lied about his Nazi past to immigrate to this country and then fraudulently become an American citizen. He had no right to citizenship or to even be in this country."
Palij, 95, was born in a part of Poland that is now present-day Ukraine. He immigrated to America in 1949 and became a U.S. citizen in 1957 by concealing his Nazi service. He told U.S. immigration officials that he had spent the war years working until 1944 on his father's farm in his hometown, which was previously a part of Poland and is now in Ukraine, and then in a German factory.
In reality, he was trained at the SS Training Camp in Trawniki, in Nazi-occupied Poland, in the spring of 1943. In 2001, he admitted his service with the Nazi war machine to the Justice Department.
DOJ court documents show that men who trained at Trawniki participated in "Operation Reinhard," the Third Reich's plan to murder Jews in Poland. On November 3, 1943, some 6,000 Jewish men, women and children incarcerated at Trawniki were shot to death in one of the largest single massacres of the Holocaust.
By helping to prevent the escape of these prisoners during his service at Trawniki, the DOJ said he "played an indispensable role in ensuring that they later met their tragic fate at the hands of the Nazis."
"Nazi war criminals and human rights violators have no safe haven on our shores," said Secretary Kirstjen M. Nielsen of the U.S. Department of Homeland Security. "We will relentlessly pursue them, wherever they may be found, and bring them to justice."
Attorney General Sessions said Mr. Palij is the 68th Nazi to have been removed from the U.S., and deported. Secretary Nielsen especially noted that it was ICE, the agency President Donald Trump on Monday praised as heroes, who conducted the operation.
"The arrest and removal of Jakiw Palij to Germany is a testament to the dedication and commitment of the men and women of ICE, who faithfully enforce our immigration laws to protect the American people."
Democrats have capitulated to their base on a deeply unpopular proposal to abolish ICE. While voters want the U.S. government to be more aggressive with deportations, the case is a case study in how badly reform is needed in U.S. immigration courts.
On May 9, 2002, the Criminal Division's then-Office of Special Investigations (OSI) and the U.S. Attorney's Office of the Eastern District of New York filed a four-count complaint in the U.S. District Court for the Eastern District of New York, to revoke Palij's citizenship.
It was revoked by a federal judge in the Eastern District of New York in August 2003. In November 2003, the government placed Palij in immigration removal proceedings.
In two decisions — the first issued on June 10 and the other on August 23, 2004 — U.S. Immigration Judge Robert Owens ordered Palij's deportation to Ukraine, Poland or Germany, or any other country that would admit him.
In his order, Judge Owens wrote that the Jews massacred at Trawniki "had spent at least half a year in camps guarded by Trawniki-trained men, including Jakiw Palij." In December 2005, the Board of Immigration Appeals denied Palij's appeal.