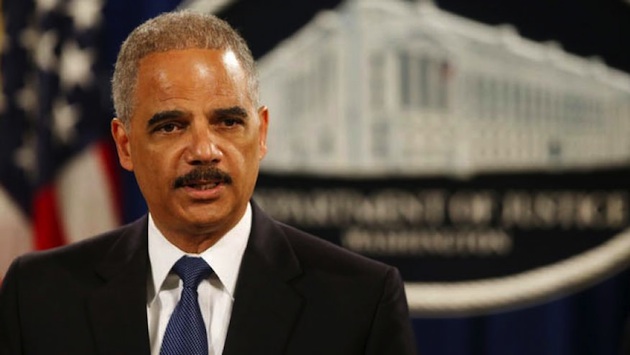 The Justice Department on Monday announced the first-ever criminal cyber-espionage case against Chinese military officials, accusing them of hacking major U.S. companies to steal intellectual property right and company secrets.
The Chinese Foreign Ministry immediately responded, reportedly warning that the action would further damage U.S.-China relations. Foreign Ministry spokesman Qin Gang urged "immediate rectification" for the charges, which he said were made up by the Obama administration.
U.S. officials accused five Shanghai-based Chinese officials of targeting companies in U.S. nuclear power, metals and solar sectors, including major U.S. firms like Alcoa World Alumina, Westinghouse Electric and U.S. Steel Corp. The other victims cited include Allegheny Technologies, United Steelworkers Union, and SolarWorld.
"This is a tactic that the United States government categorically denounces," Holder said. "This case should serve as a wake-up call to the seriousness of the ongoing cyberthreat."
John Carlin, who recently rose to head of the Justice's National Security Division, said the prosecution of state-sponsored cyberthreats was a top goal for the Obama administration.
"For the first time, we are exposing the faces and names behind the keyboards in Shanghai used to steal from American businesses," he said Monday, accusing the Chinese officials of "stealing the fruits of our labor."
Last September, President Obama discussed cybersecurity issues on the sidelines of a summit in St. Petersburg, Russia, with Chinese President Xi Jinping. China has frequently been accused of hacking, but a report released last year by the Virginia-based security firm, Mandiant Corporation, contained some of the most extensive and detailed accusations to date linking its military to a wave of cyberspying against U.S. and other foreign companies and government agencies.
In late March, Defense Secretary Chuck Hagel revealed that the Pentagon planned to more than triple its cybersecurity staff in the next few years to defend against Internet attacks that threaten national security.
Hagel's comments at the National Security Agency headquarters in suburban Washington came as he prepared to visit China.
"Our nation's reliance on cyberspace outpaces our cybersecurity," Hagel said at the time. "Our nation confronts the proliferation of destructive malware and a new reality of steady, ongoing and aggressive efforts to probe, access or disrupt public and private networks, and the industrial control systems that manage our water, and our energy and our food supplies."