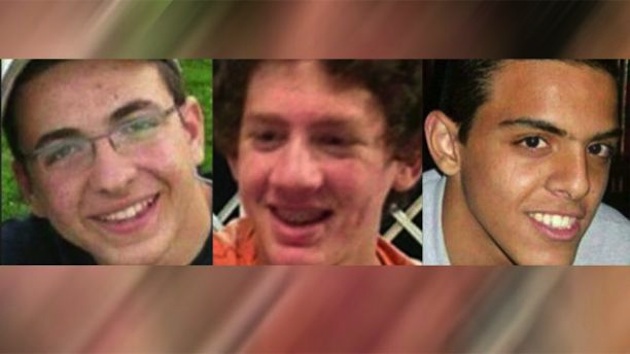 A nearly three-week intensive search for three kidnapped Israeli teens in the West Bank – including one with U.S. citizenship – ended Monday when their bodies were discovered just north of Hebron.
Eyal Yifrach, 19; Gilad Shaar, 16 and Naftali Frenkel, 16, were snatched while hitchhiking, and Israeli forces were conducting raids in the West Bank where Hamas operates up until the grim discovery. Frenkel holds duel U.S.-Israeli citizenship.
Officials said the bodies were found in the West Bank village of Halhul, which is located just north of Hebron, in a shallow grave in an open field. Prime Minister Benjamin Netanyahu is expected to speak on the discovery Monday.
The abductions outraged the Jewish state as well as their allies in the international community, resulting in Palestinian President Mahmoud Abbas condemning the abduction on June 16. Israel Prime Minister Benjamin Netanyahu had first been alone in accusing Hamas of being responsible for the kidnappings, but then Secretary of State John Kerry said that — even though officials were still investigating the abduction — "many indications point to Hamas' involvement."
Netanyahu, on the other hand, left no doubt as to who he blamed.
"Hamas terrorists carried out Thursday's kidnapping of three Israeli teenagers," Netanyahu said earlier this month. "We know that for a fact. Hamas denials do not change this fact."
Israeli officials also said they will hold Abbas and his government in the West Bank responsible for the fate of the three Jewish seminary students, as they have not only failed to put an end to the group's activities, but have actively colluded with Hamas to gain political power. In fact, earlier this month, Mahmoud Abbas formed a unity government that has the backing of Hamas.
Yet, not only were several vigils and rallies held around the U.S. and Israel during the search, hundreds of Palestinians joined them by taking part in the search, dubbed "Brother's Keeper."
The three youths disappeared as they were heading home from a West Bank religious school. Israeli officials said at the time that one of the teens called a police emergency line around 10:25 p.m. and said, "We've been kidnapped." Unfortunately, they were not heard from again.
Israeli forces searched more than 1,000 sites, rounding up Hamas and Islamic Jihad suspects as part of the operation. Then, last week the Israel Security Agency identified two Hamas operatives from Hebron as key suspects in the kidnappings, Ammar Muhammad Abu Eisha, 33, a local locksmith, and Marwan al-Qawasmeh, 29, a local barber. Officials tell PPD that Hamas may have taken steps to tie up loose ends, as both men appear to have disappeared from their homes the night of the kidnapping, and have not been seen by anyone since.