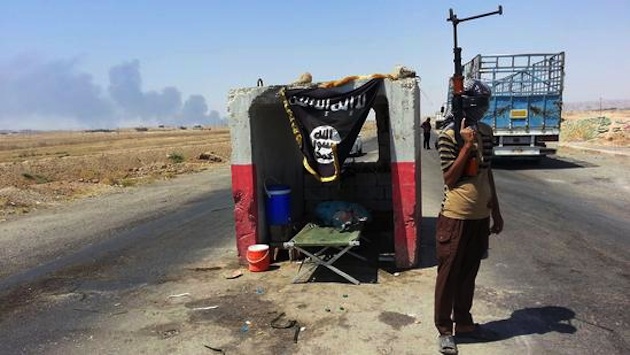 The Iraqi military failed in their attempt to retake the city of Tikrit on Sunday, as the ISIS declared the establishment of an Islamic state in territories controlled in Iraq and Syria. The Al Qaeda offshoot demanded allegiance to the Sunni Muslim insurgency from other Muslim groups in an audio recording posted online on the first day of the Muslim holy month of Ramadan.
The spokesman for the ISIS (Islamic State in Iraq and the Levant [Syria]), Abu Muhammad al-Adnani, announced that the group's leader, Abu Bakr al-Baghdadi, was now the "caliph" (leader) of a newly established state whose borders encompass territory from the city of Aleppo in northwestern Syria to Diyala province in northeastern Iraq.
Abu Muhammad al-Adnani said al-Baghdadi was "the imam and khalifah (caliph) for the Muslims everywhere." He also said that the group changed its name to the Islamic State, dropping any and all mention of Iraq and the Levant to mark the establishment of the first-ever Muslim caliphate in the modern age of liberal nation-states.
"The legality of all emirates, groups, states and organizations becomes null by the expansion of the caliph's authority and the arrival of its troops to their areas," al-Adnani added. "Listen to your caliph and obey him. Support your state, which grows every day."
Whether the group will meet resistance from other indigenous Sunni and Shiite Muslim groups is far from clear. After all, it was just a day before that Iraqi officials claimed to have entered the city of Tikrit, which is Saddam Hussein's hometown that is located just 80 miles north of the capital, Baghdad. However, Iraqi residents said Sunday that there was no sign of government troops or even militias loyal to the Iraqi Security Forces. They said the city remained largely in insurgent hands.
The failure to retake Tikrit reflects a defeat for the U.S., as well. Jawad al-Bolani, a security official in the provincial operation command, told The Associated Press the U.S. was sharing intelligence with Iraq and played an "essential" role in the offensive. Yet, the ISIS clearly was one step ahead of the Iraq-American offensive, as ISIS fighters positioned outside of the city were able to halt the Iraqi assault even before they reached the city boundaries.
Muslim extremists and other Muslim nationalists have long dreamed of reestablishing an Islamic state, otherwise known as a caliphate, akin to the Ottoman Empire that ruled over the Middle East, large regions in North Africa, and even in the region of southern-eastern Europe.