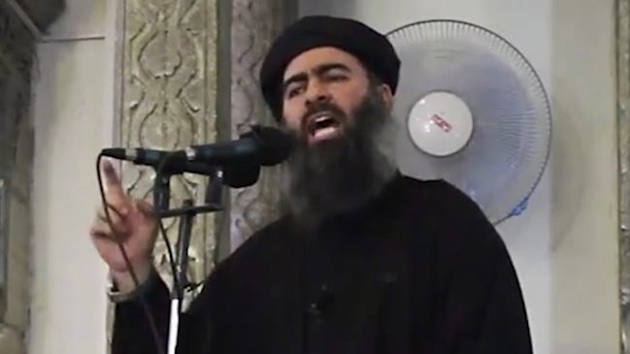 Abu Bakr al-Baghdadi, the leader of the terrorist group ISIS, otherwise known as ISIL or the Islamic State, has reportedly been injured in an airstrike. Iraqi officials said Sunday the U.S.-led assault hit the ISIS leader as he attended a Saturday meeting with militants in the town of Qaim in Iraq's western Anbar province.
While a senior Iraqi military official also said he learned in operational meetings that al-Baghdadi had been wounded, the Pentagon said they are unable to confirm the Iraqi claim at this time.
"We have no information to corroborate press reports that ISIL leader al-Baghdadi has been injured," said Col. Pat Ryder, a spokesman for U.S. Central Command in the Middle East.
Al-Baghdadi is believed to be in his early 40s, and currently has a $10 million U.S. bounty on his head. Since he took to the helm at the Islamic State in 2010, the group has been transformed into a terror army and cut vast swathes of territory out of Iraq and Syria.
By all accounts, he is a reclusive leader, making just one recent public appearance when he gave a sermon at a mosque in Iraq's second-largest city of Mosul. His sermon was seen in a video posted online in June, which came five days after the terror organization proclaimed the establishment of an Islamic state, or caliphate, in the Middle East region it currently controls. The group proclaimed al-Baghdadi its leader and demanded that all Muslims pledge allegiance to him.