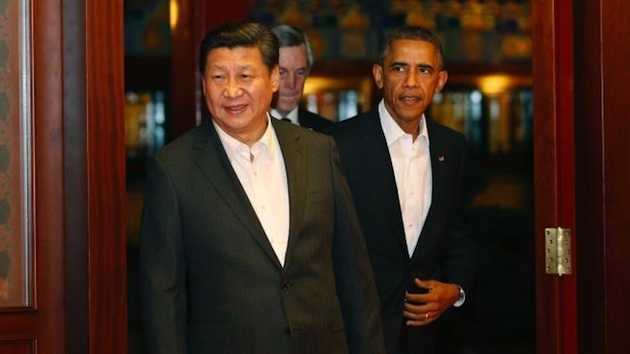 The United States and China have reached a trade agreement that would end tariffs on high-tech products, including information and communication products. The US-China trade deal was touted by administration officials as a job creator that would end protectionist policies on $1 trillion in annual global sales.
"This is encouraging news for the U.S.-China relationship," U.S. Trade Representative Michael Froman told reporters in Beijing, where President Obama is attending the Asia-Pacific Economic Cooperation forum, known as APEC.
"It shows how the U.S. and China can work together to advance their bilateral economic agenda and support a multilateral trading system," Froman added.
Prior to the announcement of the deal, the president said U.S. and China would be easing visa rules for each other's citizens, a move Obama says will "benefit everyone from students, to tourists, to businesses large and small." Speaking the Asia-Pacific Economic Cooperation forum, the president said it would boost the U.S. tourism industry.
"Chinese travelers persistently rank the United States as their top desired travel destination, but only slightly more than 1.8 percent of total outbound travelers go to the United States."
But while the White House would love to focus on the positive aspects of the two deals, even if exaggerated, the trip was plagued by the apparently increasing anti-American fervor that can not be ignored by those closely watching a new, emboldened Chinese leadership.
Chinese president Xi Jinping openly praised a young Chinese blogger that is best known by academics and mediates in the U.S. for his anti-American platform.
In Nine Knockout Blows in America's Cold War Against China, Zhou Xiaoping claimed that American culture was "eroding the moral foundation and self-confidence of the Chinese people." He likened the American media coverage of China to Hitler's Jewish propaganda, while in past works he accused the West of having "slaughtered and robbed" China since the 17th century, and was now "brainwashing" it.
President Xi characterized the blogger's works as giving off "positive energy."
State-run media welcomed President Obama with a blistering piece that said he was visiting China in desperate need of a win after suffering an embarrassing defeat in the midterm elections.
The Chinese increasing see President Obama as a weakened world leader, a sentiment that was validated when the president failed  to bring up the Justice Department's pursuit of intellectual property right theft committed by sanctioned Chinese organizations and military outfits.