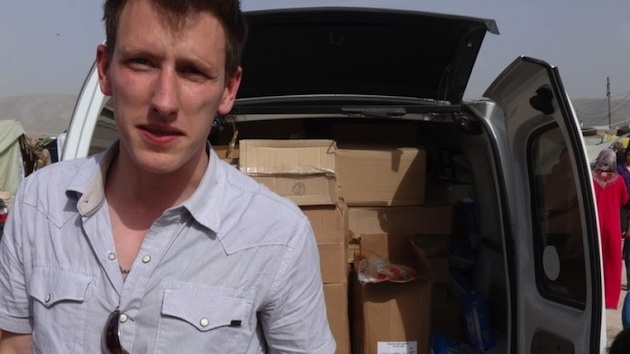 In a graphic new video, the Islamic State terror group is claiming to have beheaded American hostage Peter Kassig, the aid worker and former Army Ranger. Though U.S. officials say they have not yet verified the footage, one Pentagon official told PPD that they have little reason to question its authenticity.
National Security Council spokesperson Bernadette Meehan said in a formal statement that intelligence officials were "working as quickly as possible to determine its authenticity. If confirmed, we are appalled by the brutal murder of an innocent American aid worker and we express our deepest condolences to his family and friends."
The video had some similarities, but differed greatly in certain ways to previous beheading footage. First, it was far longer and, second, it didn't focus specifically on one hostage.
In the nearly 16-minute video released via social media on Sunday, a black-clad militant presumed to be Jihad John with his face concealed stands before a severed head that he claims is that of the U.S. aid worker. Jihadi John was responsible for previous hostage beheadings, but was reportedly injured in a U.S. airstrike.
The video also showed what appeared to be the mass beheading of more than a dozen captured Syrian soldiers, but did not show the beheading of the person identified as Kassig, 26. Showing the execution of the soldiers was also a switch from previous videos, which did not show the actual act of beheading. The soldiers' executioners are also not wearing masks in the video. They go on to warn they will carry out similar actions outside the region, hinting that more U.S. and allied attacks are in the making.
While PPD is in possession of the actual video, we will not be posting it for several reasons. First and foremost, the family has requested media not do so, and we will honor that request.
Ed and Paula Kassig, Peter's parents, released a statement early Sunday saying they were aware of the reports of their son's death and were awaiting confirmation of their authenticity.
"We prefer our son is written about and remembered for his important work and the love he shared with friends and family," the statement read, "not in the manner the hostage takers would use to manipulate Americans and further their cause."
"This is Peter Edward Kassig, a U.S. citizen, of your country; Peter who fought against the Muslims in Iraq, while serving as a soldier," the militant says toward the end of the video, which was released shortly after President Obama departed for Washington from the G-20 summit in Australia.  . He is clearly speaking with a British accent, which is easily recognizable despite attempts to make it more difficult to identify him. They tried to hide his voice by distorting it.
"We say to you, Obama …you claim to have withdrawn from Iraq four years ago," the militant said. "Here you are: you have not withdrawn. Rather, you hid some of your forces behind your proxies," he said, apparently referring to Western-backed Syrian rebels, Kurdish fighters and the Iraqi military.
"Here we are, burying the first American crusader in Dabiq, eagerly waiting for the remainder of your armies to arrive."
The video also attempts to tie ISIS leader, Abu Bakr al-Baghdadi, to Usama bin Laden and Abu Musab al-Zarqawi, the founder of Al Qaeda in Iraq, from which Islamic State claims descent. Baghdadi, whom they call the caliph, was also reportedly injured in a U.S. strike last week, but intelligence and Pentagon officials never substantiated the claims that originated from Iraqi officials, and it has become clear that he survived if he was even hurt.
Sky News reported that the man featured in the video spoke in English with a British accent. The Associated Press reported that his voice had been distorted to make him harder to identify. It was not immediately clear whether he was the same militant who has appeared in other beheading videos and has been referred to as "Jihadi John" in accounts given by former hostages of their captivity.
The video identifies the militant's location as Dabiq, a small town in the northern Syrian province of Aleppo, near the Turkish border. The urban setting is another departure from previous beheading videos, which were filmed in the remote desert of northeastern Syria.
Kassig would be the fifth Western hostage killed by ISIS in less than three months, and the third American. Previous Western beheading victims were American journalists James Foley and Steven Sotloff, as well as Britons David Haines, a former Royal Air Force engineer, and Alan Henning, a taxi driver from northwest England. The group is also holding British photojournalist John Cantlie, who has appeared in several other videos released by the group functioning as a de facto spokesman.
It is not clear when the video was filmed. Last month, a Twitter account linked to ISIS posted a message warning that Kassig had only days to live. A video released last month appeared to show Kassig, of Indianapolis, kneeling as a masked militant says he will be killed next, after Henning's purported beheading. Kassig had been held in Syria since October 2013.
Kassig formed the aid organization Special Emergency Response and Assistance, or SERA, in Turkey to provide aid and assistance to Syrian refugees. He began delivering food and medical supplies to Syrian refugee camps in 2012 and is also a trained medical assistant who provided trauma care to injured Syrian civilians and helped train 150 civilians in providing medical aid.