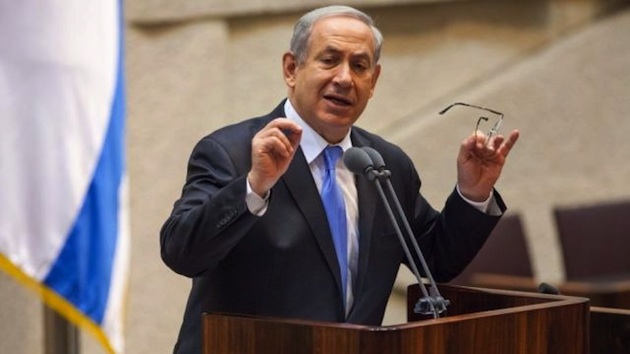 Israeli Prime Minister Benjamin Netanyahu told the Knesset Wednesday he is determined to pass the controversial Jewish nation-state bill, Haaretz reported.
Speaking at a tempestuous Knesset hearing originally meant to be on the cost of living, Netanyahu said Palestinian civil rights are heralded above the rights of Jews to have their own state, and questioned why many support the establishment of a Palestinian state et object to a Jewish state.
"Those who speak domestically about two states for two peoples and oppose the nation-state law are making a contradictory statement: 'The Palestinians deserve a nation-state of their own, and this state [Israel] will be binational,'" Netanyahu said.
The controversial nation-state bill is a draft of a quasi-constitutional Basic Law, defining Israel as a Jewish state and granting national rights to the Jewish people, while recognizing all citizens' rights as individuals. But there are multiple version of the bill, and it is a watered-down version that both Prime Minister Netanyahu and Justice Minister Tzipi Livni support.
"Israel is a Jewish and democratic state, and for the sake of creating a balance and resisting those who challenge, I am determined to advance my version of the nation-state law," Netanyahu said. "Over the years, a distinct imbalance has been created between the Jewish element and the democratic one. There is an imbalance between individual rights and national rights in Israel."
Netanyahu, whose speech was widely accepted and met with repeated interruptions of members cheering and applauding, acknowledged that non-Jews must have equal rights.
"I oppose a binational state. I want a state of one nation — the Jewish nation-state — which also includes non-Jews with equal rights," said Netanyahu. "I understand why Hamas opposes the nation-state law, but some of my good friends [also] oppose this nation-state law."
Opposition leader Isaac Herzog, the chairman of the Labor Party, said the bill was putting Israeli's "democracy and egalitarian" nature in danger. Herzog also said asking the Knesset to recognize Israel as a Jewish nation-state was the wrong political move.
"In a deal with the Palestinians, I think there does need to be a national recognition for each other's state," he said. "But when you take this law to the Knesset to change the balance in the country, you are violating Israeli democracy."
Netanyahu, who has been dealing with an increased level of Palestinian violence in Israel following the conflict over the summer with Hamas, has been cracking down on Islamic terrorism.
Following the gruesome synagogue killing in mid-November, Israel revived a controversial home destruction policy, which consisted of demolishing the homes of the Islamic radicals who killed innocent people while they were praying. Home destruction was abandoned a decade ago, but increasing Islamic violence that has taken 11 lives thus far prompted Israeli officials to revive it.
Last week, Israeli forces also destroyed the home of a Palestinian man who killed two pedestrians with his car prior to the synagogue attacks.