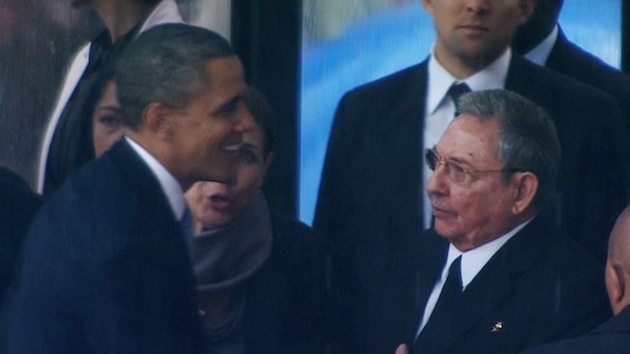 BREAKING & DEVELOPING: U.S. officials say the Obama administration plans to start talks with Cuba on normalizing full diplomatic relations and even opening an embassy. The president's push to end the 1960s-era Cuban embargo, which was instituted in a bipartisan fashion, comes after American hostage Alan Gross was released from a prison in Cuba as part of a prisoner swap.
President Obama will hold a press conference around 12:00 P.M. ET to also discuss the release of Mr. Gross, who was released after five years in Cuban prison. Cuban President Raul Castro, the brother to the infamous socialist dictator Fidel Castro, will also hold a press conference at the same time.
In exchange for Mr. Gross' freedom, three Cuban spies were released to the custody of the Cuban government.The release of Mr. Gross, who returned in relatively poor health and lost a dramatic amount of weight, follows years of desperate appeals by Gross, his family, and what many considered to be a lack of attention from the White House. Those closest to the family say that the administration only became responsive to the situation in recent months.
Sen. Marco Rubio (R-FL), a son of a Castro-era Cuban immigrant, said the agreement includes normalizing banking and trade ties with Cuba. However, it does not help to achieve progress in Cuba and is against U.S. national security interests.
"This is going to do absolutely nothing to further human rights and democracy in Cuba," Sen. Rubio said. "It's absurd, and it's part of a long record of coddling dictators by this administration."
Rubio also said that the three spies will "receive a heroes welcome" from the unfriendly dictatorial regime, and that "Barack Obama is the worst negotiator since at least Jimmy Carter, if not in history." Rubio said he is pushing "a foreign policy that is truly naive at best, and at worst poses a truly dangerous threat to the future of this country."
Meanwhile, the outrage over the White House's decision to make such a trade and open up U.S.-Cuban relations is bipartisan.
"President Obama's actions have vindicated the brutal behavior of the Cuban government," Sen. Bob Menedez (D-NJ), the outgoing Senate Foreign Relations Committee Chairman said in a statement. "Trading Mr. Gross for three convicted criminals sets an extremely dangerous precedent. It invites dictatorial and rogue regimes to use Americans serving overseas as bargaining chips. I fear that today's actions will put at risk the thousands of Americans that work overseas to support civil society, advocate for access to information, provide humanitarian services, and promote democratic reforms."
Sen. Menendez, a Hispanic Democrat, echoed Rubio's sentiment that the president unilaterally concedes to demands from dictatorial regimes without getting any concessions that further U.S. interests in return.
"This asymmetrical trade will invite further belligerence toward Cuba's opposition movement and the hardening of the government's dictatorial hold on its people," Menedez added. "Let us all remind ourselves that an untold number of ordinary people yearning for democracy remain imprisoned by the exact same tormentors that have punished Alan Gross and they, along with all Cubans, deserve a free and liberated Cuba."
Lifting the embargo on Cuba will take an act of Congress, specifically from the Senate, which is set to transfer power to Republicans following their historic midterm victory. According to Sen. Rubio, the votes aren't there to lift the ban.