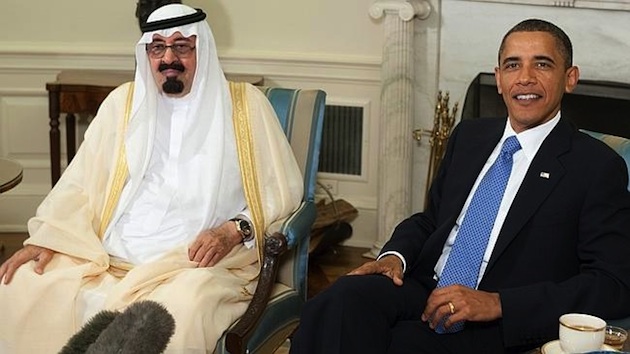 Saudi state TV reported Thursday that King Abdullah of Saudi Arabia, a powerful and key U.S. ally against al Qaeda and Iran, died at age 90. King Abdullah attempted to modernize the ultraconservative Muslim kingdom, but now his 79-year-old half-brother has been named his successor.
The announcement came in statement read by a presenter on Saudi state TV, which aired video of worshippers at the Kaaba in Mecca and claimed he died after midnight Friday.
"I always valued King Abdullah's perspective and appreciated our genuine and warm friendship. As a leader, he was always candid and had the courage of his convictions," President Obama, who visited the king back in March, said in a statement. "One of those convictions was his steadfast and passionate belief in the importance of the U.S.-Saudi relationship as a force for stability and security in the Middle East and beyond."
With the collapse of the pro-West government in Yemen this week, which fell to Iran-backed Houthi rebels, one former diplomat close to the Saudi royal family told Fox News the death of King Abdullah is a "worst case scenario" for the U.S. and the West because Iran is able to extend its reach and influence in the region.
He said Teheran's influence is now seen in at least four Middle Eastern capitals – Sana'a in Yemen, Baghdad in Iraq, Damascus in Syria, and to a lesser extent in Beirut, Lebanon.
"I am deeply saddened to learn of the passing of my dear friend and partner King Abdullah," former President George H.W. Bush said in a statement. "As President, I found His Majesty always to be a wise and reliable ally, helping our nations build on a strategic relationship and enduring friendship dating back to World War II."
Despite the close alliance with the king, the friction between Washington and Abdullah regarding Israel and state-sponsoring terrorism was a very real challenge. The kingdom was home to not only Usama bin Laden, but also 15 of the 19 hijackers from the Sept. 11, 2001 terror attacks.
In 2000, Abdullah convinced the Arab League to approve a proposal calling on all Arab states to agree to peace with Israel if it withdrew from lands it captured in 1967. Just one month before 9/11, he sent the Saudi ambassador in Washington to tell the Bush administration that it was too biased in favor of Israel, and as a result, the kingdom would from now on pursue its own interests.
It had an impact. For the first time, President Bush advocated for the creation of a Palestinian state so long as it was a two-state solution with Israel.
Though Saudi Arabia proved to be a staunch U.S. ally in the global war on terror, it wasn't until 2003, when al Qaeda militants began a push in the kingdom to overthrow the monarchy, did King Abdullah really crack down on the organization hard. As a result of a three-year effort, Saudi Arabia's security forces pushed al Qaeda militants into neighboring Yemen.
Without a doubt, Abdullah's biggest priority was to confront Shiite Iran across the Gulf. The king was extremely concerned regarding Iran's nuclear program, leading him to push the United States in 2008 to take military action to "cut off the head of the snake," preventing them from obtaining a nuclear weapon. The information was revealed in a leaked U.S. diplomatic memo. Long-frustrated by Washington's inaction, he pushed the Obama administration to take a stand against Iran and to back the majority Sunni rebels fighting to overthrow Syrian President Bashar Assad.
Abdullah was born in Riyadh in 1924, one of the dozens of sons of Saudi Arabia's founder, King Abdul-Aziz Al Saud. He became crown prince in 1982 on the same day his half-brother Fahd, who suffered a debilitating stroke, ascended to the throne. When Fahd died in 2005, Abdullah officially rose to the throne.
He pushed to modernize Saudi Arabia, a nation of immense wealth, by being a strong supporter of education, building universities at home and increasing scholarships abroad for Saudi students. A Western-style university even bears his name — the King Abdullah University of Science and Technology. When it opened in 2009, both men and women shared classrooms and studied together inside the campus, marking the first time in a nation that still fears the morality police.
King Abdullah also gave women seats on the Shura Council, an unelected body that advises the king and government, for the first time ever. He appointed the first female deputy minister in a 2009, and two Saudi female athletes competed in the Olympics for the first time in 2012. A few women were even granted licenses to work as lawyers during his rule.
However, it is unclear whether some of his promises and reforms will have staying power over the ultraconservative Wahhabi clerics, who give the royal family legitimacy. Abdullah promised women would be able to vote and run in 2015 elections for municipal councils, which are the only elections held in the country. He and other Sunni Arab monarchs are staunchly opposed to the Middle East's wave of pro-democracy uprisings, which they see as a threat to stability and their own rule.
Sen. John McCain, R-Ariz., called Abdullah "an important voice for reform in Saudi Arabia. He pushed for the modernization of the education system, curbed the authority of the religious police, and extended women the right to vote and run in municipal elections."
More than his guarded and hidebound predecessors, Abdullah assertively threw his oil-rich nation's weight behind trying to shape the Middle East. His priority was to counter the influence of rival, mainly Shiite Iran wherever it tried to make advances.
Abdullah had more than 30 children from around a dozen wives.
The Associated Press contributed to this report.