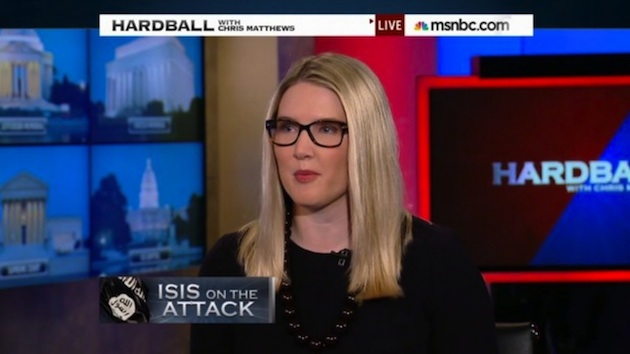 On Feb. 3, ISIS released a video for the world to see of the brutal burning death of Jordanian Air Force pilot Moath al-Kasasbeh. On Feb. 15, ISIS terrorists released a video of the beheading of 21 Egyptian Christians. It didn't take long for Jordan's King Abdullah to unleash dozens of airstrikes against the terror group in Syria or for Cairo to strike ISIS in Libya, and call for a U.N.-backed coalition to get in the game.
President Obama's response? A few targeted airstrikes, a weak and unnecessary request for congressional authorization for war, a White House summit on terrorism, minus mention of Islamism – and a record-ridiculous, "you've got to be kidding" moment from Marie Harf, spokesperson for the State Department.
Her claim? That all the poor terrorists need are some economic opportunities.
"We're killing a lot of them and we're going to keep killing more of them. So are the Egyptians, so are the Jordanians. They're in this fight with us. But we cannot win this war by killing them," Harf's said during a "Hardball" interview with Chris Matthews. We cannot kill our way out of this war. We need in the medium- to longer-term to go after the root causes that lead people to join these groups, whether it's lack of opportunity for jobs, whether –"
And that's where Matthews interrupted to say that the poor are always going to be with us and to wonder, most reasonably, what else can we do?
"We can work with countries around the world to help improve their governance," Harf added. "We can help build their economies so they can have job opportunities for these people."
So let's get this straight. Heads roll – literally. People burn. But Team Obama thinks signing the responsible parties up for some workforce training, or maybe sending in some franchise businesses with big "Help Wanted" signs in their windows, are the real keys to curbing the terror.
Could the president's fantasy land get any larger?
Omar Abdel Hamid El-Hussein, the man suspected of killing two during separate weekend attacks — one at a café hosting a free speech seminar and the other, at a Jewish synagogue — had just pledged loyalty to ISIS leader Abu Bakr al-Baghdadi in a post on his Facebook's page, authorities found. A few weeks before that, four Jewish men were killed by gunmen professing allegiance to ISIS and al Qaeda, during an attack on a kosher grocery in Paris – the tail end of a terrorist wave that started at Charlie Hebdo and left a total of 17 dead.
Factor in all the hated-filled rhetoric against Israel and the Judeo-Christian dominated West, and couldn't the Obama administration at least entertain the thought that the driving force behind ISIS is anti-Semitism, anti-Christianity – anti-all things that aren't of narrow Shariah conformance?
Yet this administration steadfastly refuses to regard the enemy with truthful eyes and see its murderous motivations as rooted in religious radicalism. After the kosher deli massacre, Obama told Vox that Americans needn't concern themselves with radicals who "randomly shoot a bunch of folks at a deli in Paris." He later told CNN that he didn't want to "quibble with labels," because "we do ourselves a disservice in this fight if we are not taking into account the fact that the overwhelming majority of Muslims reject this [jihad] ideology."
Quibble with labels? Those who can't name the enemy, can't win against the enemy. Obama's politically correct dance around the truth is only emboldening the enemy and placing America, and our allies, at risk of more terrorist attack and harm.
[mybooktable book="police-state-usa-how-orwells-nightmare-is-becoming-our-reality" display="summary"]