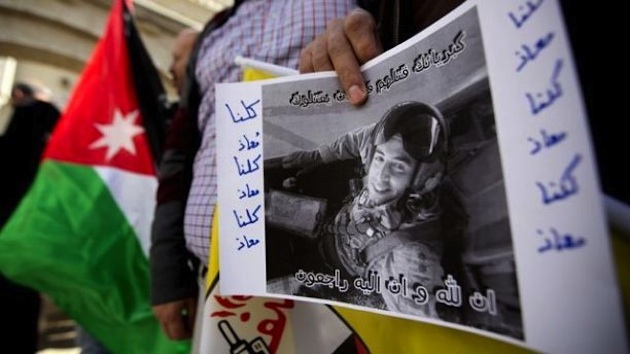 Jordan's King Abdullah II is making good on his promise to avenge the death of a captured Jordanian pilot who was burned alive by ISIS. Jordanian fighter pilots conducted a series of devastating airstrikes on ISIS targets early Thursday, reportedly killing 55 members of ISIS, including a senior commander known as the "Prince of Nineveh."
While PPD has not been able to independently confirm the death of the ISIS commander, if true, then it would be a significant victory both politically and strategically for King Abdullah.
The airstrikes come roughly 24 hours after King Abdullah stepped up his rhetoric and military involvement against the terrorist army in neighboring Iraq and Syria. The reaction follows the horrific death of Lt. Muath al-Kaseasbeh, who was seen being burned alive in a cage on a videotape released by Islamic State on Tuesday. Upon their return from the mission, the Jordanian fighter jets roared over Lt. al-Kaseasbeh's hometown in southern Jordan. The king, who was seen pointing at the planes as he sat next to the pilot's father.
Abdullah, a former general and special forces commander, paid a condolence visit to the grieving family.
"I want the state to get revenge for my son's blood through more executions of those people who follow this criminal group that shares nothing with Islam," Safi al-Kasseasbeh, the father of the Jordanian pilot told Reuters. He said the two executions carried out Wednesday morning were not enough to avenge his son's death.
Jordanian state-run media did not specify where the strikes took place, but the ISIS stronghold of al-Raqqah, Syria is located roughly 330 miles from the Jordanian-Syrian border. In a statement Wednesday, he pledged to hit the militants "hard in the very center of their strongholds."
"The blood of martyr Muath al-Kaseasbeh  will not be in vain and the response of Jordan and its army after what happened to our dear son will be severe," said King Abdullah in a statement released by the royal court. "Jordan's response will be harsh because this terrorist organization is not only fighting us, but also fighting Islam and its pure values."
The response, itself, stands in stark contrast to the decision by the United Arab Emirates (UAE) to withdraw from conducting airstrikes on Islamic State targets in Iraq and Syria. The UAE quit the coalition in December, despite the Obama administration repeatedly claiming it remained a nation in the air over ISIS. The UAE claims they had concerns over pilot rescue capabilities in wake of the downed Jordanian fighter jet, but others suspect support for their internal radical factions to be the true reason.
Lt. al-Kaseasbeh was a well-known name in the Kingdom before the atrocity. He was from a prominent family in the Kingdom of Jordan, and at least for now, King Abdullah has public opinion firmly on his side.
"We are all Hashemites and we are following the government with no reservations in this fight against these godless terrorists," a cafe patron, Yousf Majid al-Zarbi, told The Guardian. "Have you seen that video? I mean really, how in humanity could this be a just punishment for any person?"
King Abdullah met with U.S. lawmakers in Washington Wednesday and told them that Jordan would fight the Islamic State until it ran "out of fuel and bullets." Lawmakers from both parties have increased pressure on the Obama administration to speed up deliveries of aircraft parts, night-vision equipment and other weapons to Jordan.
All 26 members of the Senate Armed Services Committee sent in a letter to Secretary of State John Kerry and Defense Secretary Chuck Hagel, which stated the situation Jordan and coalition now faces "demands that we move with speed to ensure they receive the military material they require."
"Specifically, Jordan is seeking to obtain aircraft parts, additional night vision equipment and precision munitions that the king feels he needs to secure his border and robustly execute combat air missions into Syria," wrote the committee, the members of which all met with the king.
White House Press Secretary Josh Earnest said the administration would consider any foreign aid package passed by Congress, but indicated the White House would rather consider a specific request from the Jordanian government.
Meanwhile, the king was greeted by applause and crowds of thousands of supporters flooding the streets upon his return Wednesday. They lined the main roads to and from the airport, with many waving flags and holding pictures of both the king and the pilot.
Jordan, which was thought to be home to hundreds of supporters of Islamic terror, was a kingdom previously divided on its role in the U.S.-led coalition against Islamic State. But that has changed following the release of horrific video and execution of their own, beloved pilot.
Jordan's information minister, Mohammad al-Momani told AFP: Amman was "more determined than ever to fight the terrorist group Daesh," using another name for Islamic State, which is also commonly referred to as ISIS.
"I swear to God we will kill all those pigs," one man said of the terror group. "Whatever it takes to finish them is what we will do."