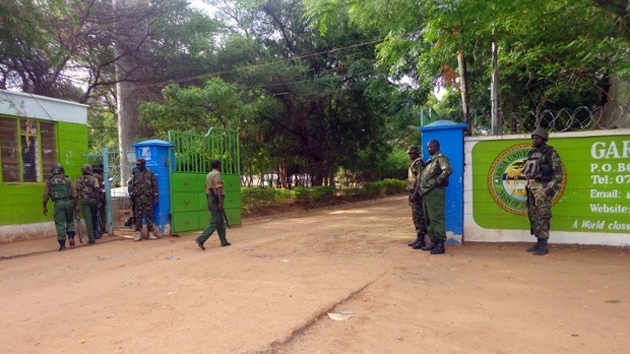 At least 15 are dead and 60 are injured after Somali Islamic terror group al-Shabaab stormed Garissa University College shortly after 5:00 a.m. local time (10:30 p.m. Wednesday Eastern Time). A spokesman for the terror group told the BBC that it attacked the school because "it's on Muslim land colonized by non-Muslims."
Kenyan Cabinet Interior Secretary C.S. Nkaissery said in a statement that "280 of the 815 students have been accounted for," making the total number of missing 535.
"We sorted people out and released the Muslims," Sheikh Abdiasis Abu Musab, al-Shabaab's military operations spokesman. "There are many dead bodies of Christians inside the building. We are also holding many Christians alive. Fighting still goes on inside the college."
Abass Gulett, head of the Red Cross in Kenya, said fighting was ongoing as security forces tried to retake some university blocks from the gunmen.
"We have evacuated about 30 casualties, most of them with bullet wounds," Arnolda Shiundu, a spokesman for the Kenya Red Cross (KRC). "Four are in a critical state and Kenya defence forces personnel have airlifted three victims, including two soldiers, to Nairobi."
The selective targeting of Christians mirrors the recent attack on a museum in Tunisia, during which ISIS-affiliated Islamic terrorists asked patrons whether they were muslim or not. The patterns stands in contrast to the indiscriminate murder of any and all civilians, likely due to recent bad publicity turning no small percentage of public opinion against the groups.
"If you were a Christian you were shot on the spot," Collins Wetangula, the vice chairman of the student union said. "With each blast of the gun I thought I was going to die. The next thing, we saw people in military uniform through the window of the back of our rooms who identified themselves as the Kenyan military."
Al-Shabaab has increased attacks in Kenya since its troops were deployed in Somalia in 2011 to confront the al-Qaida affiliate. African Union troops have driven al-Shabaab from nearly all major high-populated areas in Kenya, but the terrorists vowed retribution and have responded with a series of terror attacks in Somalia, Kenya and Uganda, another country contributing troops.
Last month, al-Shabaab claimed responsibility for attacks in the county of Mandera on the Somali border in which twelve people died. Four of them died in an attack on the convoy of Mandera County Governor Ali Roba.