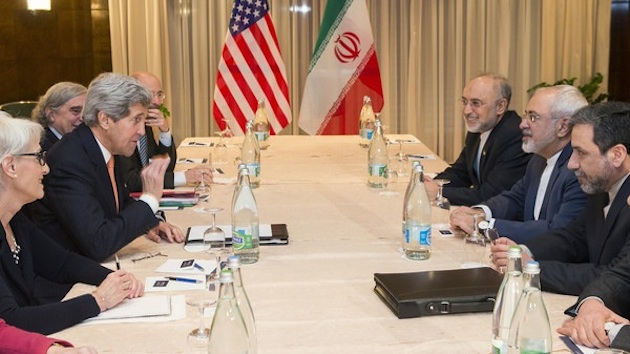 The U.S. and other remaining international negotiators have reportedly agreed to the outlines of a preliminary deal to move to the final round of Iran talks. The Associated Press reported on the agreement, while noting that negotiators are still in a dispute over the degree of secrecy the public stomach.
The officials spoke on the condition of anonymity as the week-long talks have now run through the long-anticipated March 31 deadline. The last-minute effort, which France and China had all but given up on, was to formulate a general statement of what has been accomplished and document what the sides need to do by the end of the June deadline.
Swiss officials told the AP a news conference has been scheduled for later in the day, which is expected to announce the results of the talks, though again, secrecy can be expected surrounding the details of the framework.
The fate of the Iran talks has been uncertain, particularly in recent days, as U.S. lawmakers grew more worried Tehran was making unreasonable demands. Many even urged the U.S. delegation to "walk away" from the negotiating table, which White House Press Secretary John Earnest had sought to reassure critics the administration was willing to do.
Pressured by congressional critics in the U.S. who threaten to impose new sanctions on Iran over what they say is a bad emerging deal, the Obama administration is demanding significant public disclosure of agreements and understandings reached at the current round. However, officials claim the Iranian regime wants a minimal amount to be made public.
The officials also caution that the results reached in Lausanne, Switzerland may be less than a deal and more of an informal understanding.