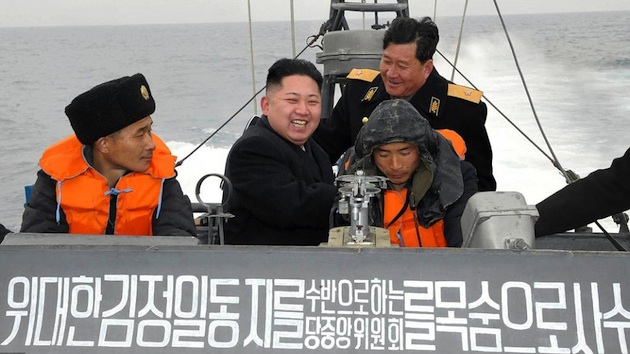 North Korea has declared a no-sail zone for its ships off its east coast indicating a suspected missile launches is possible ahead of a high-profile visit to Seoul this week. On Friday, the regime in Pyongyang fired four short-range missiles off its west coast in what South Korea condemned as an attempt to increase tension during its annual joint military drills with the United States.
The two rivals have been in a tense standoff over the arrest of two South Korean nationals the North Korean regime accused of espionage. However, it is not clear if the latest no-sail zone in the area off the Korean peninsula's east coast was a direct indication of an imminent missile launch.
"There are no signs of peculiar movements," South Korean defense ministry deputy spokesman Na Seung-yong said during a briefing.
North Korea has reported to the International Maritime Organization (IMO) before previous long-range missile launches, which it claimed were rockets to launch satellites. But Nan said neither the IMO nor South Korea were made aware of the latest. North Korea is currently under U.N. sanctions because it is banned from developing ballistic missile technologies.
Meanwhile, the Defense Department did not immediately respond to a request for comment, but U.S. Defense Secretary Ashton Carter is due to start a three-day visit to South Korea on Thursday.
South Korea's Yonhap News Agency quoted unidentified government officials as saying the no-sail warning has been in effect since April 1, which they worry indicates that a launch of a mid-range Rodong missile was "possible."
North Korea last test-fired its mid-range Rodong missile in March 2014, which has a range of roughly 1,300 km (800 miles). The test was conducted while the leaders of South Korea, Japan and the United States were meeting to discuss the threat from the North, but Pyongyang did not issue a no-sail warning before that launch.
North Korea often fires short-medium range missiles into the sea as a response to the U.S.-South Korean drills, which it claims to be a preparation for war. Just last month, Pyongyang tested two short-range missiles off its eastern coast and did not declare a no-sail zone, which drew condemnation from Japan.
North Korea, which has threatened to carry out what would be its fourth nuclear test, is believed by experts to be very close to being able to put a nuclear warhead on a missile. The mid-range Rodong missile is at the top of the suspect list.
Kim Jong Un, the regime's dictator, visited a navy unit to supervise torpedo attack drills on Saturday, according to state-run media.
The nuclear posturing comes as the P+5 announced they have reached a preliminary agreement with Iran to outline the framework of a nuclear deal. Critics have noted just how similar the deal appears to the one negotiated by President Bill Clinton in the 1990s (Compare Rhetoric On Iran Deal Vs. North Korea). North Korea obviously obtained nuclear weapons, regardless.