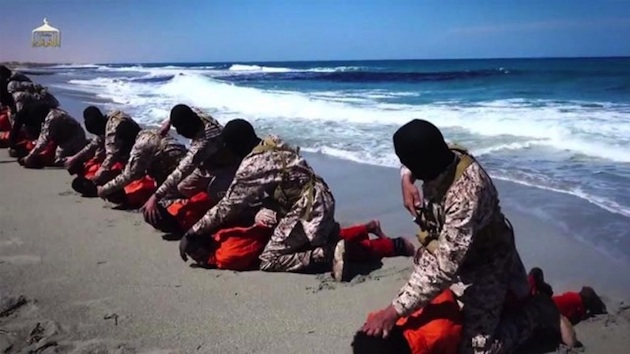 CAIRO (AP) — A video (below) released by the Islamic State group appears to show the killing of two different groups of captured Ethiopian Christians in Libya.
The 29-minute video released online Sunday stars a masked man wielding a gun and saying with a North American accent that Christians must convert to Islam or pay a special tax as prescribed by the Quran. The video then alternates between images of captives held by a subsidiary of the Islamic State in eastern Libya called Barka Province and another group held by a subsidiary in the Southern Province Fazzan.
"The Muslim blood that was shed under the hands of your religion is not cheap," the masked militant says. "In fact, theirs is the purest blood because there is a nation behind them that inherits revenge. And we swear by Allah, the one who disgraced you at their hands will not have safety. Even in your dreams."
It mirrored a video released in February showing militants beheading 21 captured Egyptian Christians on a Libyan beach, which was met immediately by Egyptian airstrikes on the group's positions in Libya. The captives in the south are shot in the back of their heads en masse shortly before ISIS beheads the captives in the east on a beach.
PPD was not able to independently confirm the captives in the video were in fact Ethip, but video bore the official logo of the IS media arm Al-Furqan and resembled previous videos released by the extremist group.
The latest video comes a day after Afghanistan's president blamed the Islamic State for a suicide attack in his country that killed at least 35 people and underscores the chaos that has followed in Libya since its 2011 civil war. U.S. President Barack Obama deposed the dictator Muammar Qaddafi, who was killed after being beaten in the street by an angry mob, something likely Democratic presidential nominee and former Secretary of State Hillary Clinton literally joked about in a recent interview.
"We came. We saw. He died," Hillary said before letting out her classic Clinton laugh.
[brid video="7241″ player="1929″ width="630″ height="354″]