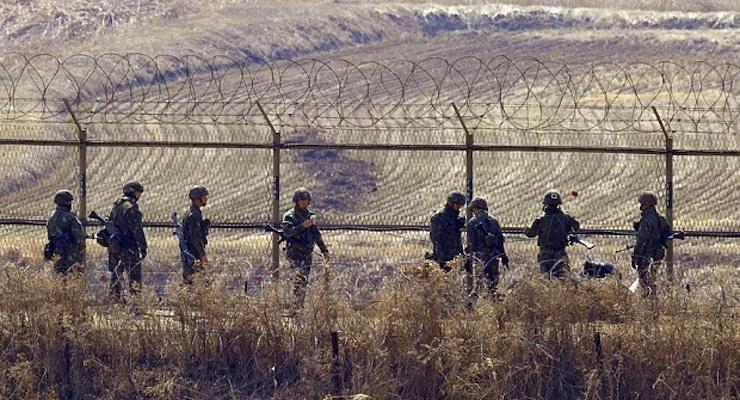 North Korea Fires Across DMZ, South Responds With "Dozens" of Artillery Shells
South Korea returned artillery fire in response to Pyongyang launching a projectile at a loudspeaker broadcasting anti-North propaganda, officials confirm. South Korean officials said their detection equipment picked up on the projectile's trajectory, which was launched around 3:52 pm (0252 EDT). Seoul's defense ministry said the U.S. ally retaliated by firing "dozens" of artillery rounds across the border toward the source roughly an hour and a half later.
While the attack did not appear to have damaged the loudspeaker or caused any injuries–as it landed in an area approximately 35 miles north of Seoul on the western part of the DMZ–the exchange marks the first time the two countries have clash since November 2010. North Korea shelled a South Korean island near their maritime border, killing four.
"Our military has stepped up monitoring and is closely watching North Korean military movements," South Korea's defense ministry said in a statement. "Our side staged a counter-attack with dozens of 155mm shells."
South Korea's presidential office said it has called an urgent meeting of the national security council in response to the attack, the military raised its alert status to the highest level, and residents in and around the area of the attack were ordered to evacuate.
The communist dictatorial North and the pro-West South have remained in a technical state of war since signing the armistice following the 1950-1953 Korean War. While it ended in a truce, it is not an actual peace treaty.
South Korea's won currency (CURRENCY:KRW) weakened in non-deliverable forward trading on the reports of the firing, which came after onshore spot trading had closed. The 1-month contract KRW1MNDFOR= rose as high as 1,192.7 won per dollar from around 1,189.8 earlier.