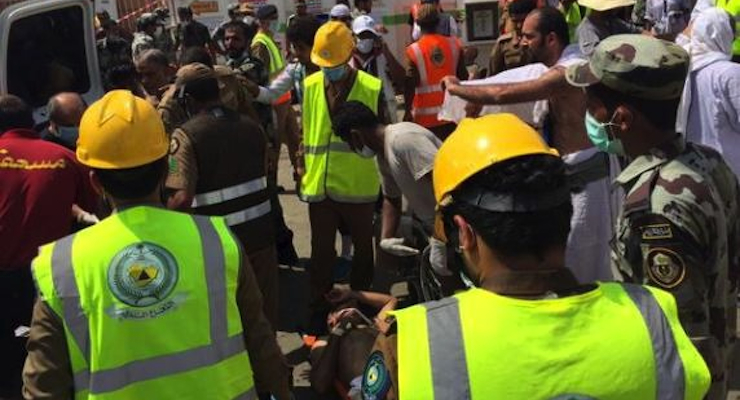 BREAKING NEWS: At least 717 people were killed and at least 807 were injured in Mina, Saudi Arabia by a stampede of pilgrims making the traditional hajj pilgrimage to the Muslim holy city of Mecca. An estimated 2 million people are participating in the journey.
Reuters reported that the circumstances of the stampede were not immediately clear. However, Thursday marked the Muslim holiday of Eid al-Adha, which is apparently the most dangerous day of the pilgrimage because so many people attempt to perform rituals in the same place at the same time. The area is on the main road from the center of Mecca to the Hill of Arafat, which is highly revered by Islam, as it is believed to be the place where Muhammad gave his farewell sermon to Muslims who had accompanied him to Mecca near the end of his life.
"Please pilgrims do not push one another. Please leave from the exit and don't come back by the same route," an officer kept repeating through a loudspeaker at Jamarat.
This is not the first time there has been a crowd hysteria-induced tragedy during the hajj, which Muslims are required to undertake at least once during their life. In fact, there is a long history of such events. In 2006, 364 pilgrims were killed in a stampede in Jamarat at the entrance to a bridge leading to the site in Mina where pilgrims carry out a symbolic stoning of the devil by throwing pebbles against three stone walls. In 2004, 244 people were trampled to death on the final day of the hajj ceremonies.
Leading up to the hajj this year, at least 111 people have been killed already and countless others were wounded when a crane collapsed in bad weather and crashed onto the Grand Mosque in Mecca, Islam's holiest site.
However, the deadliest recorded accident during the hajj pilgrimage uccured in 1990, when 1,426 were trampled, suffocated and crushed by their fellow Muslim brothers and sisters in a stampede located in an overcrowded pedestrian tunnel leading to Mecca's holy sites.