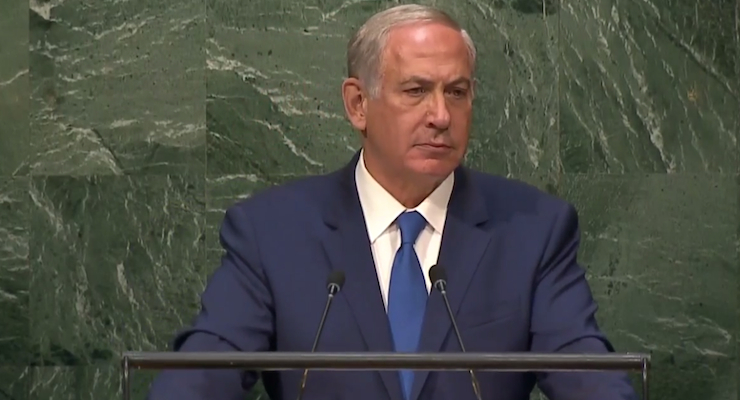 UN Passed 20 Resolutions Condemning Israel, But Only 1 Condemning Syria
Israeli Prime Minister Benjamin Netanyahu slammed the United Nations during his speech at the General Assembly Thursday and railed against the Iran nuclear agreement.
"To borrow a line from Yogi Berra, the late great baseball player and part-time philosopher," Netanyahu said. "When it comes to the annual bashing of Israel at the U.N., 'it's déjà vu all over again.' Enough. Thirty-one years after I stood here for the first time, I'm still asking. When will the U.N. finally check its anti-Israel fanaticism at the door?"
Netanyahu also promised he would resume peace talks with Palestinian President Mahmoud Abbas without preconditions, and called on him to do the same. However, Abbas recently said he would not, a pander to the Hamas-led parliamentary pols he cut a deal with to ensure a governing coalition last year. However, it was another moment during the speech that caught the world's attention and was widely seen as a powerful and effective tactic.
"70 years afte the murder of six million Jews, Iran's leaders threaten to destroy my country, to murder my people and yet the respons from this body, from nearly every one of the governments represented here, the response from every one of you here, utter silence," he said. "Deafening silence."
Netanyahu said nothing, simply staring intensely and silently at the various world leaders for nearly a minute.
"Israel is civilization's frontline in the battle against barbarism. So here's a novel idea for the United Nations," Netanyahu proposed. "Instead of continuing the shameful routine of bashing Israel, stand with Israel. Stand with Israel as we check the fanaticism at our door. Stand with Israel as we prevent that fanaticism from reaching your door. Ladies and gentleman, stand with Israel because Israel is not just defending itself, Israel is defending you."
Netanyahu also criticized the U.N. for passing some 20 resolutions condemning Israel for their actions during the latest conflict with Hamas in Gaza, but only 1 against Syrian President Bashar al-Assad, who used poison gas to kill thousands of the 200,000-plus who have died since the civil war began. In May, the international body was contemplating putting Israel on the same kid-killer list as the Islamic State (ISIS), but retreated from doing so after a U.S.-led backlash.
But the prime minister's speech ended with a warning to the would-be Persian empire, declaring that "Israel will not allow Iran to sneak in to the nuclear weapons club."
"In every generation there were those who rose up to destroy our people, in antiquity we faced destruction, from the ancient empires of Babylon and Rome. In the middle ages, we faced inquisition, and expulsion, and in modern times we faced pogroms and the holocaust. Yet the Jewish people perservered. And now another regime has arisen, swearing to destroy Israel," Netanyahu added. "That regime would be wise to consider this: I stand here today representing Israel, a country 67 years young, but the nation state of a people nearly 4000 years old. Yet the empires of Babylon and Rome are not represented in this hall of nations. Neither is the thousand year Reich. Those seemingly invincible empires are long gone. But Israel lives. The people of Israel live. Am Yisrael Chai."