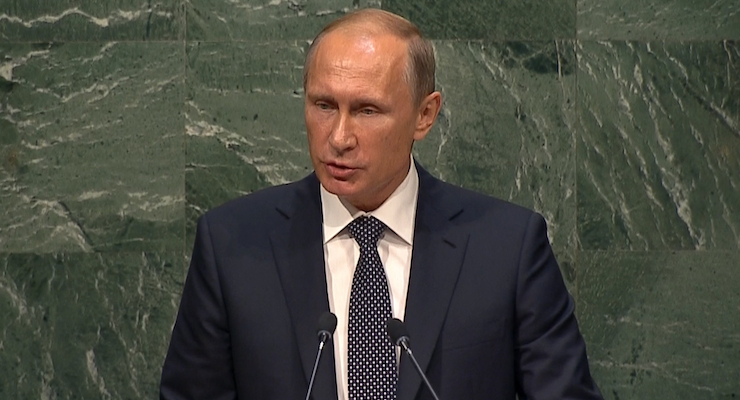 NATO Secretary-General Jens Stoltenberg on Monday held an emergency meeting with Foreign Minister Feridun Sinirlioğlu after a Russian fighter jet violated Turkey's airspace over the weekend. The incursion comes as Pentagon officials confirm Russia violated the Intermediate-Range Nuclear Forces treaty (INF) on Sept. 2 by testing its SSC-X-8 cruise missile.
"I just met with the Foreign Minister of Turkey Feridun Sinirlioğlu to discuss the recent military actions of the Russian Federation in and around Syria," Stoltenberg said in a statement. "Including the unacceptable violations of Turkish airspace by Russian combat aircraft."
The incident, which Russia characterized as a "navigational error" on Saturday, occurred near Yayladagi in the southern Hatay region around the Syrian border. The plane did vacate Turkish airspace after being intercepted by two Turkish F-16 jets. Russia began air support for Syrian President Bashar Al-Assad last week, which Turkey has called a "grave mistake."
"I made clear that NATO remains strongly committed to Turkey's security. I will convene a meeting of the North Atlantic Council later today to discuss the situation. Russia's actions are not contributing to the security and stability of the region," the secretary-general added. "I call on Russia to fully respect NATO airspace and to avoid escalating tensions with the Alliance. I urge Russia to take the necessary steps to align its efforts with those of the international community in the fight against ISIL."
Meanwhile,  the INF treaty restricts nuclear missiles with ranges between 300 and 3,400 miles. Russia's September test of the weapon didn't actually extend beyond 300 miles, but officials say the U.S. will consider it a violation as it's believed to have a range that falls within the range limited by the INF Treaty. However, it isn't the first time Russia has engaged in such a test. The Obama administration, with the support of the intelligence community, declared an earlier test of the missile a breach of the INF treaty.
But critics, who point to multiple incidents of Russia aggression going back to September 2014, argue that isn't a strong enough response for Russian President Vladimir Putin to respect. Rep. Mike Rogers, R-Ala., chairman of the House Armed Services subcommittee on strategic forces, told The Washington Free Beacon he has been pressing the Pentagon to respond to the INF breach in a more forceable fashion. He said he isn't at all surprised by the repeated Russian missile tests in violation of the INF treaty, considering the Obama administration's lack of response.
"It is time for the White House to get out of the way of the [Defense Department] so that it can field military responses to this treaty violation," Rep. Rogers said. "We must make sure the Russian Federation cannot obtain a military advantage from this or any of its other arms control violations. What's more, the mullahs in Tehran are watching: when Putin gets away with cheating on INF, the IRGC gets ideas about what it will do under President Obama's misbegotten nuclear deal."