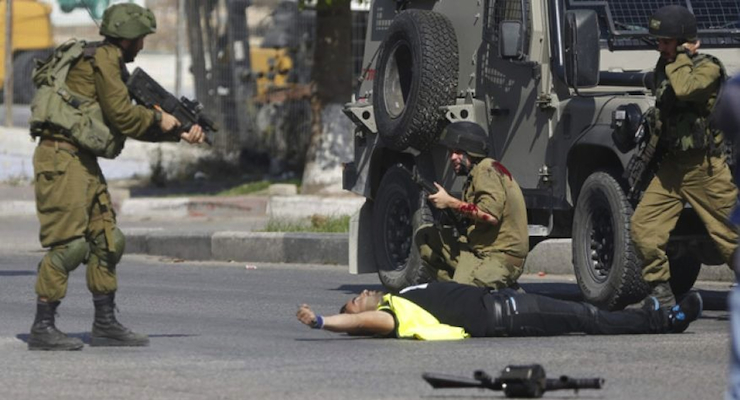 A Palestinian disguised as a photojournalist stabbed an Israeli soldier in Hebron Friday, amid a "day of rage" that began with setting fire to a site believed to be the tomb of the biblical figure Joseph. The Palestinian slasher was shot and killed by Israeli border troops, marking the fourth after three more were killed in clashes between rioters and IDF soldiers in several West Bank towns, as well as the Israel-Gaza border.
Tensions have been high in the region and at the point of combustion on the streets of Jerusalem, following a series of recent Palestinian attacks, most of them stabbings, that killed eight Israelis over the past month. The latest round of violence and bloodshed came as the United Nations Security Council held an emergency meeting at the request of Jordan, the only council member from the Arab Group, which includes the Palestinian Authority.
Speaking before the meeting, new Israeli Ambassador Danny Danon brought out a Palestinian diagram display meant to incite violence, entitled: "How to stab a Jew." Danon blamed the Palestinian government and media sympathizers for provoking attacks among children and teenagers.
"You can see with this picture what incitement looks like," he added.
The Palestinian ambassador to the United Nations, Riyad Mansour, blamed the recent violence on what he characterized as Israeli "terror," citing its occupation of East Jerusalem. He said such actions "will not break the will of our people."
Israeli Prime Minister Benjamin Netanyahu on Thursday called on Palestinian Authority President Mahmoud Abbas to stop inciting Palestinians to attack Israelis with knives and axes and hail terrorists as heroes.
"Abu Mazen [Abbas] is inciting murder," Netanyahu said during a press conference in Jerusalem.
Netanyahu spoke a one day after Abbas delivered a speech claiming that Israel had killed Ahmed Manasra, 13. However, the young Palestinian teenager, along with his 15-year old cousin, had stabbed a 13-year old Israeli in Jerusalem's Pisgat Ze'ev neighborhood on Tuesday. Abbas, who formed a coaltion government controlled by Hamas' political wing, ignited a Palestinian uproar in Israel after he falsely claimed in a televised speech that Israelis had "summarily executed" Manasra.
"First of all he (Manasra) is not dead, he is alive. Second, he is not innocent. He tried to kill, murder–knife to death an innocent Israel youngster, 13 years old, riding his bike," said Netanyahu. "Now we have a new big lie. That new big lie is that Israel is executing Palestinians."
Meanwhile, the deadly attack raised concerns among foreign journalists about their safety, leading the Foreign Press Association for Israel and the Palestinian territories to issue a statement saying it "marks a worrying development" that demands all media personnel proceed with greater caution.
"We utterly deplore this violation of press privilege and call on local Palestinian media organizations to immediately verify all media credentials," the FPA said in a statement.
In Nablus, another West Bank city, Palestinians firebombed the tomb, an attack condemned as "irresponsible" by Palestinian President Mahmoud Abbas. Flames blackened exterior walls of the small stone structure, a scene of Israeli-Palestinian clashes in the past.
Most of the identified Palestinian attackers are from east Jerusalem, the region of the city Israel captured when in 1967 Palestinians, who want the sector as their future capital, organized Egypt and other surrounding Arab states to attack Israel. They were utterly, embarrassingly defeated and Israel now maintains they need the region–among others–in order to ensure security from future encompassing attacks.
The recent attacks have largely been carried out by individuals with no ties to militant groups, leading to conclusions that rhetoric from Abbas and other Palestinian Authority figures are inciting the violence.