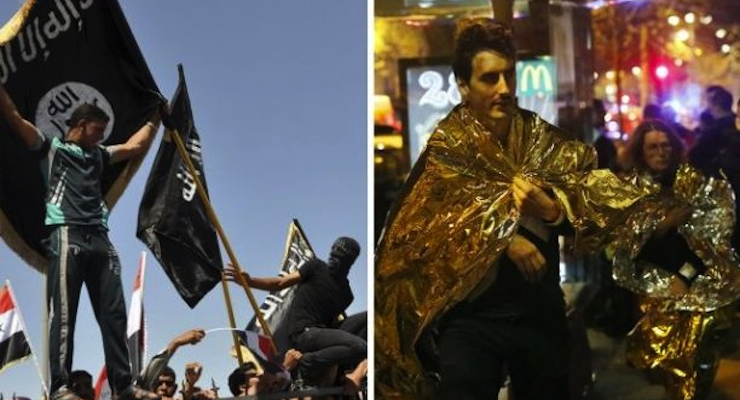 PPD Confirms Its Earlier Report: Syrian Passport Found on Dead Suicide Bomber
Hours after French President Francois Hollande addressed his grieving nation, the Islamic State (ISIS) claimed responsibility for a series of coordinated attacks in Paris.
In an online statement, ISIS described Paris as "the carrier of the banner of the Cross in Europe" and described the attackers as "eight brothers wrapped in explosive belts and armed with machine rifles."
"Let France and those who walk in its path know that they will remain on the top of the list of targets of the IS," the statement also read, in part, "and that the smell of death will never leave their noses as long as they lead the convoy of the Crusader campaign."
At least 158 people, including 118 confirmed to have been executed in a Paris concert hall, in what was a series of six coordinated terror attacks in France. Eight Islamic State-recruited terrorists wielding AK-47s and hurling explosives executed hostages in the Bataclan Concert Hall, while a gunman opened fire in a popular restaurant. Officials tell PPD they believe that the attack on the restaurant came moments before in an effort to distract law enforcement resources, leaving the larger more populated concert hall a defenseless target.
According to witnesses, the gunmen in the Bataclan, who were young men, shouted "Allahu Akbar" and "this is for Syria." They also asked "What are you doing in Syria?" and told victims "You are going to pay now."
Sources told PPD that officials believed one of the suspects was recruited in Syria and, along with three others, migrated to Europe. A Syrian passport was found on one of the dead suicide bombers. Supporters of ISIS on Twitter under the hashtag باريس_تشتعل# were saying Rome, London, and Washington D.C. were next.
However, U.S. Homeland Security Department officials monitoring the attacks in Paris say there is no known, credible threat against the U.S., though New York and Boston were put on high alert in the wake of the attacks.
Meanwhile, Hollande declared three days of national mourning and raised France's security to its highest level in the wake of the worst terror attack in the nation's history. He described Friday's attacks, which was the worst bloodshed in Paris seen since World War II, as an "act of war" and vowed to "lead a pitiless war." The attack was the worst Europe has seen since a series of train bombings in Madrid, Spain, which killed 191 people on March 11, 2004.
Hollande said ISIS was "a terrorist army … a jihadist army, against France, against the values that we defend everywhere in the world, against what we are: A free country that means something to the whole planet." He also said that France "will be merciless toward the barbarians of Islamic State group" and warned the French government would "act by all means anywhere, inside or outside the country."