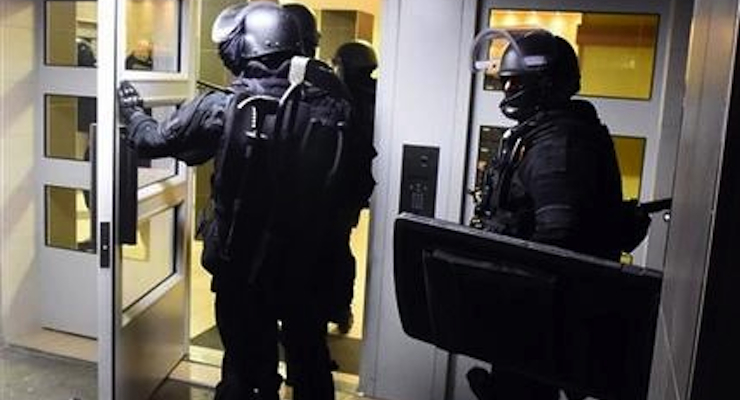 UPDATED: Officials have made a number of arrests in connection with a series of terrorist attacks in Paris Friday after having conducted over 150 raids in France and Belgium. As of Monday afternoon, officials say at least 24 people had been arrested and, contrary to earlier reports, Salah Abdeslam, 26, a key suspect, has not yet been apprehended.
Officials told PPD Abdeslam was stopped by officers at the border in the hours following the attacks, but let him go. His brother, Mohammed Abdeslam, was arrested in a sting operation as he returned to Belgium from Paris. While PPD can confirm Mohammed's arrest, Salah's arrest has not yet been independently verified.
Suspected Paris attackers
Salah Abdeslam, 26 – Reported arrested and being urgently sought by police
Mohammed Abdeslam – Reportedly arrested in Belgium
Brahim Abdeslam, 31 – named as attacker who died near Bataclan concert hall
Omar Ismail Mostefai, 29, from near Paris – died in attack on Bataclan
Bilal Hadfi, 20 – named as attacker who died at Stade de France
Ahmad al-Mohammad, 25, from Idlib, Syria – died at Stade de France (unverified)
Samy Amimour, 28, from near Paris – suicide bomber at Bataclan
Two other attackers died during the assaults in the city
French Prime Minister Manuel Valls said Monday "we are at war" against a "terrorist army," not a single cell or group.
"We know that operations were being prepared and are still being prepared, not only against France but other European countries too," Valls said. "We are making use of the legal framework of the state of emergency to question people who are part of the radical jihadist movement… And all those who advocate hate of the republic."
Belgium's Premier Charles Michel said the Belgian authorities would crack down on Molenbeek, a location known to be at the center of a longtime weapons trafficking operation and jihadist haven.
Meanwhile, PPD confirmed on Saturday that at least one terrorist in the Paris attacks Friday entered the European Union (EU) through a popular transit point for so-called Syrian refugees.
"On the case of the Syrian passport found at the scene of the terrorist attack, we announce that the passport holder had passed from Leros on Oct. 3 where he was identified [as a 'refugee'] based on EU rules," said Greek Citizen Protection Minister Nikos Toskas. "We do not know if the passport was checked by other countries through which the holder likely passed."
European security officials have long and quietly feared that Islamic jihadists could take advantage of the mass migration influx, while opposition from native populations across Europe continues to rise. Support for Angela Merkel, who has opened Germany to a million migrants, is completely plummeting. Bavaria's CSU, sister party of Merkel's CDU, is in full rebellion. Bavaria, along with Leros, has been a main port of entry for the hundreds of thousands of arriving migrants.
"It is clear now that together with the victims of Islamo-fascism in the Middle East that come as refugees, extreme elements are crossing to Europe," Defence Minister Panos Kammenos said after an emergency meeting with Prime Minister Alexis Tsipras.
Greece's junior minister for migration Yiannis Mouzalas admitted in September that it would be "foolish" to completely discount the possibility of jihadists sneaking into Europe among the refugee wave.
Over 800,000 people have crossed the Mediterranean to Europe this year, alone. Yet, Tsipras on Saturday sought to downplay the danger, insisting that the refugees fleeing Syria "are hunted by the same terrorists" that were behind the Paris attacks on Friday.
"We must find solutions to the drama of the people who leave their homes, hunted by the same terrorists, and drown in the Mediterranean," Tsipras said in a televised address.