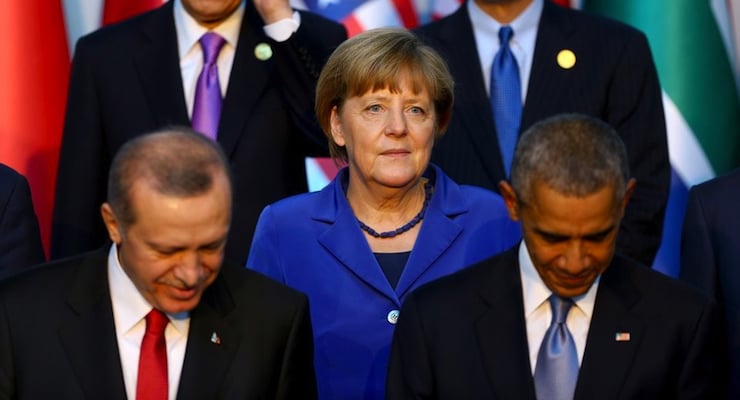 Merkel: "Time is Running Out to Return Hope to the Millions of Refugees"
Despite the details of the terror attacks in Paris and increasing opposition from political allies German Chancellor Angela Merkel has doubled-down on taking in Muslim refugees. Speaking at the G20 summit in Antalya, Turkey, Merkel suggested Europe owed it to the so-called "innocent" refugees to find the terrorists responsible for the attack in Paris, as well as provide them "security in our countries."
"We all know that time is running out to return hope to the millions of refugees," Merkel said. "We owe that not only to the victims but also to security in our countries and to the refugees, a large number of whom are fleeing terrorism." Merkel also said that "everyone has a duty to give refugees a home, or at least a temporary home."
Support for Merkel within her own political coalition, following her decision to open Germany to a million migrants, is completely plummeting. Bavaria's Christian Social Union (CSU), sister party of Merkel's CDU, is in full rebellion. Bavaria, along with Leros, has been a main port of entry for the hundreds of thousands of arriving migrants.
At least one terrorist in the Paris attacks Friday entered the European Union (EU) through Leros on Oct. 3 "where he was identified [as a 'refugee'] based on EU rules," PPD confirmed Saturday. The Syrian passport in question was found on one of the dead suicide bombers, who was supposedly not known to French intelligence officials.
"On the case of the Syrian passport found at the scene of the terrorist attack, we announce that the passport holder had passed from Leros on Oct. 3 where he was identified [as a 'refugee'] based on EU rules," said Greek Citizen Protection Minister Nikos Toskas. "We do not know if the passport was checked by other countries through which the holder likely passed."
Greece's junior minister for migration Yiannis Mouzalas admitted in September that it would be "foolish" to completely discount the possibility of jihadists sneaking into Europe among the refugee wave.
"The days of uncontrolled immigration and illegal entry can't continue just like that. Paris changes everything," said Bavarian Finance Minister Markus Soeder. "The CSU stands behind the chancellor, but it would be good if Angela Merkel acknowledged that the opening of the border for an unlimited period of time was a mistake."
Meanwhile, despite the mounting pressure and growing anxiety in Germany and France amid the flood of "asylum-seekers," only one leader has been consistently pushing back against the unfettered migrant policy.
"A modern day mass migration is taking place that could change the face of Europe's civilization," said Hungarian President Viktor Orban. "If that happens, that is irreversible. There is no way back from a multicultural Europe. If we make a mistake now, it will be forever."
Merkel made clear Monday she would not be joining the growing chorus of voices in the EU, and was joined by U.S. President Barack Obama in doubling-down. According to recent surveys, American voters do not want to accept refugees from Middle East countries in the wake of the civil war. Most Americans understand that there is no real vetting process and are simply not willing to assume the risk.