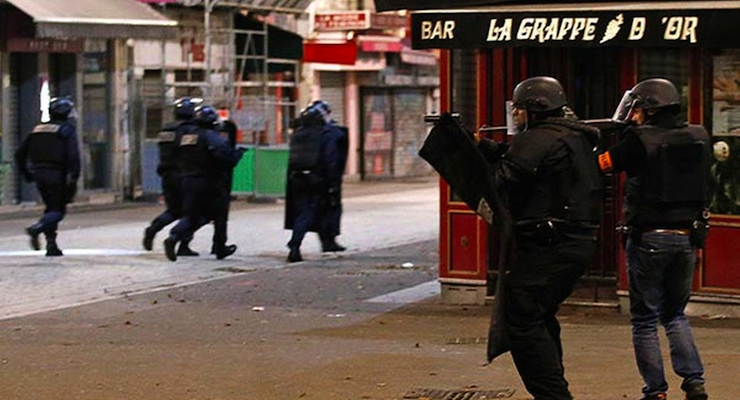 Speaking at a press conference on Wednesday, the Paris prosecutor in charge of the investigation into the Paris terror attacks said the second body found after this morning's raid on a suspected terrorist hideout could not yet be identified.
However, citing two senior European intelligence officials, the Washington Post is reporting one of the bodies from a raid in Saint Denis is the mastermind of the Paris terror attacks, Abdelhamid Abaaoud. Seven suspected terrorists have been arrested and two are dead in a raid that was indeed targeting the mastermind of the Paris attacks in the northern suburb.
François Molins said during the presser that over 5,000 rounds had been fired in the raid-turned-gun fight this morning, which resulted in the recovery of various military-grade weapons. The sources said Abaaoud, a Belgian-born extremist who had once boasted about easily moving between Europe and ISIS-controlled territory in Syria, was killed after more than 100 police and soldiers stormed the building during a seven-hour siege.
"The confirmation was made after forsenic experts combed through the aftermath," the Post reported.
PPD has not yet independently confirmed the report, and at least one other suspect believed closely linked to the Paris attacks remains at large. Friday's carnage that killed at least 129 people and wounded 350 others. Officials have arrested 60 individuals in connection with the series of attacks since Friday.
Meanwhile, French President François Hollande tried to rally and calm the fears of his countryman and fellow leaders. However, he said France has always been and will remain an open society as it rises to meet the Islamist challenge facing them.
"We are at war against terrorism, terrorism which declared war on us," Holland said at a meeting of French maoyors on Wednesday. "It is the [Islamic State] jihadist organization. It has an army. It has financial resources. It has oil. It has a territory. It has allies in Europe, including in our country, with young, radicalized Islamist people. It committed atrocities there and wants to kill here. It has killed here."