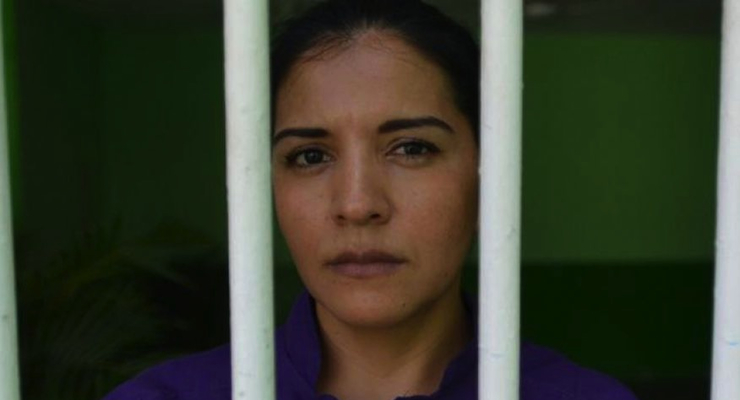 Yecenia Armenta, a 39-year old woman who was arrested in July 2012 as she drove relatives to the Culiacan International Airport, claims she was beaten and raped into signing a confession to a crime she says she didn't commit. In a letter to Amnesty International, Armenta accused the infamously corrupt Mexican police of hanging her upside-down by her ankles, suffocating her, beating and raping her over the course of a 15-hour period.
"They said they would bring my two children, rape them and cut them up into pieces," the stay-at-home mother told Amnesty. "After many hours of torture and after they'd raped me, I signed the confession. I was still blindfolded. I never even read what I had signed."
Armenta, who is currently imprisoned for the murder of her husband in the City of Culiacan, which is located in Sinaloa State, told Amnesty being away from her children was the hardest part of her ordeal. Amnesty International is now calling on the Mexican government to release her from jail, drop the charges and vacate the sentence.
"The heat is intense: in these summer months it gets to 40 degrees and rising, and inside these cells, we are all sweating. Three years: I've seen summers come and fade, people arrive at, and then leave, this place, and all the time my children are growing up, outside these walls," she wrote. "Before all this happened, I used to feel useful in society, and I loved looking after others. But then, I was tortured by Mexican police. They tortured me physically, psychologically and sexually. Then, they charged me with a crime I never committed."
As shocking as these claims may sound, it is far from the first time the Mexican government has been accused, suspected or known to be behind such a heinous human rights crime against women. From 2011 to 2012, 1238 women and girls were reported missing in the State of Mexico, with more than half of them being under the age of 17.
Claudia Medina, another Mexican woman, was arrested and taken to a local Mexican naval base without representation. Medina also claimed she was tortured in various ways over several days, including being beaten, subjected to electrical shock, sexual abuse, had chili sauce forced up her nose with a syringe and forced to sign a confession stating that she belonged to a criminal gang. In February 2015, Medina was cleared of all charges.
Amnesty International noted how the Mexican government continues to allow confessions into evidence that were coerced as a result of confession, despite ratifying a UN convention prohibiting torture.