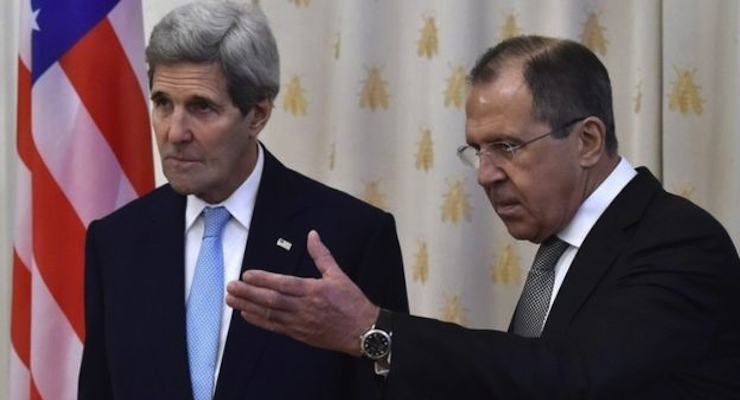 U.S. Secretary of State John Kerry said he will "hope" the meetings with his Russian counterpart Sergei Lavrov and President Vladimir Putin will produce "common ground" on Syria. Prior to the meeting with Lavrov, which is shortly before another with Putin, Kerry said both Russia and the U.S. believe the Islamic State is a "threat to every country."
"The world benefits when powerful nations can find common ground and I hope today we can find some common ground," Kerry said. "These are the worst of terrorists, they leave no choice but for civilized nations to join together and push them back and destroy them."
Lavrov also said he hoped the two could also address the ongoing strife in Ukraine with Kerry. However, the real talk coming from the Pentagon this week raised concern over Russia's commitment to resolving the Syrian conflict. Officials said Monday only 3 in 10 Russian airstrikes are targeting ISIS fighters, while U.S.-Sunni allies are demanding Washington commit to toppling and replacing Syria's President Bashar al-Assad's regime.
Putin rejected aa statement of principles released after last week's meeting of Syrian opposition political and armed factions in Riyadh, which he said included "terrorist groups."
Russia launched an air campaign to bolster Mr Assad's government back in September, claiming it has only targeted "terrorists" and, most of all, jihadist militants from Islamic State. But activists say its strikes have mainly hit Western-backed rebel groups. Further, there have been mixed signals to say the least over whether Russia is supplying what is left of the rag-tag Free Syrian Army with weapons and supplies. Last week, Putin said he gave such an order, but his spokesman Dmitry Peskov denied it only a few hours later.
"I have nothing to add to what's already been said," Peskov told the BBC, who was attempting to clear up the confusion. "I have nothing to add and I don't want to explore this subject."
Meanwhile, a Russian navy ship fired warning shots at a Turkish fishing boat on Sunday in yet another dangerous incident between Russia and the NATO member nation. It follows Turkey's downing of a Russian fighter jet in November. Russia complained that the Turkish fishing boat strayed too close to one of its destroyers off the coast of Syria, resulting in the warning shots and threats of "potentially disastrous consequences" for Turkey.